Children In Need
We celebrated Children in need and talked about why we donate money and what it means to be a child in need.
All of the children dressed up and we completed some fun activities.
Here is what the children say about why we raise money...
"To help the children that don't have anything" - Jessica
"They haven't got any toys. We help them" - Ella
" They need our help" - Georgie
"They haven't got any food" - Annie. S
"To make them happy" - Ozzie
Our Army Visit
The Soldiers came in to talk about the important job that they do. They also reminded the children why we wear poppies.
Outdoor Learning
The children have been very busy on a Thursday morning in our forest. They have been looking at different trees, learning their names and talked about the different shaped leaves.
The children have been using tools and we talked about handling them safely. We are making bows and arrows and using tools to construct with a purpose in mind.
Autumn
We have been talking about Autumn and how things change. the children have been looking at the different leaves, conkers and animals.
The children have been using the clay to make hedgehogs, which they thoroughly enjoyed, they are on display in our creative area.
They have also been making hedgehogs, using their cutting skills to cut out their hand prints.
Our new shelves in our creative area are displaying our clay hedgehogs and Diva lamps that we made.
Come and take a look...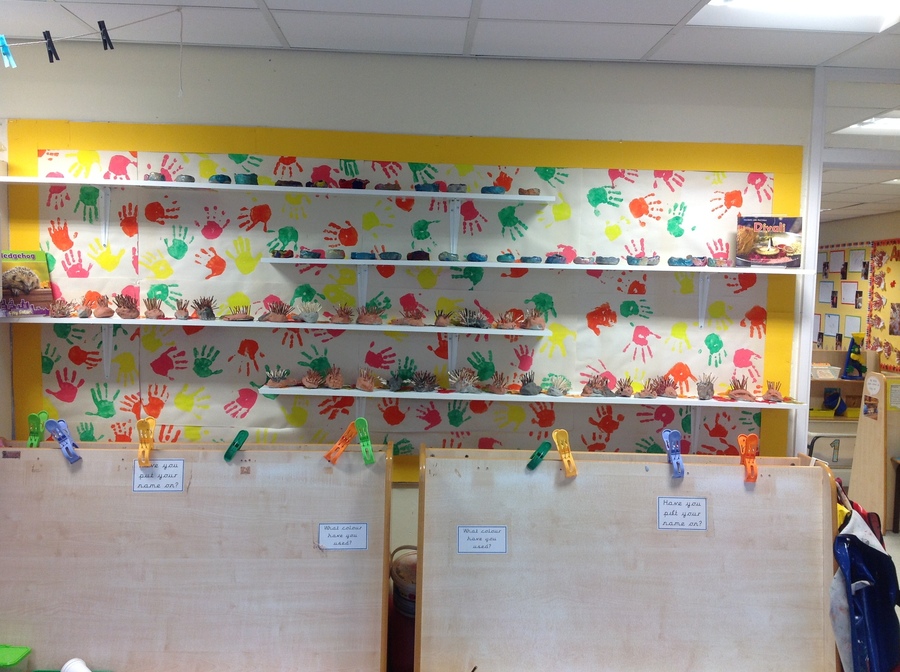 Welcome to all the new Nursery children
The Nursery children have settled in to school very well, quickly learning our class rules and being kind to their new friends. They have already been very busy doing lots of exciting things.