Week Commencing 26th March
We are still buzzing after preparing for and presenting our 'Trashion' show on Wednesday morning. The focus was on our topic of Fairtrade and recycling. From the reception we received from parents and pupils, it appeared that everyone (especially ourselves) enjoyed our fashion creations and modelling poses! Here are lots of photos of us strutting our stuff!
Week Commencing 19th March
Thankfully, our mock SATS week was peppered with lots of fun to counteract the hard work. An early start to each day involved a SATs breakfast, which consisted of tea, juice and mountains of toast, butter and jam expertly prepared at Mr Revell and Mrs Hadfield's 'toast station'. This set us up for the tasks ahead which we completed confidently - we all agreed the tests were much less stressful than we had imagined.
As well as our mock SATS, a sporty theme has been very noticeable across school this week, due to the fact that our test week coincided with Sports Relief. We spent a couple of afternoons doing circuit training in the hall, which involved using equipment such as trampettes, rowing machines, ball bouncing nets and spin cycles. This was such fun!
It's fair to say that both our minds and bodies have been heavily challenged this week, but we feel GREAT! Here are some photos of us...
Week Commencing 12th March
Work is well under way for our 'Trashion' show to be held on 28th March!
Our designers are being creative in recycling rubbish into new items of clothing and some of us are upcycling our old clothes into new. Already we are identifying a few talented designers of the future... We can't wait to show off on the catwalk!
Week Commencing 12th February
We paid a visit to year 2 on Thursday afternoon to admire (and learn from) their work on penguins. What beautifully presented and well-researched information texts they have written! We were equally impressed by their performance poetry and were blown away with the high-level vocabulary and confidence in performing in front of an audience. Well done year 2!
Our Science, English and ICT work overlapped with our presentation skills too this week as we created Powerpoint presentations on the topic of 'Adaptation'. After spending some time preparing, perfecting and rehearsing, we presented some of these to year 2. We had some lovely feedback from the younger children:
"I did not know that polar bears could camouflage." - Ruben P
"Year 6 have done lots of work and put all of their effort into it." - Reuben R
"I think year 6 did a fantastic job because they had a lot of confidence." - Seth
"I liked when they told me about the beavers, also about the camels because I didn't know that they had really long eyelashes." - Eloise
"I learned some new things like I didn't know that when beavers are in the water when they shut their eyes, they can see." - Emily
"Lovely information from year 6. I learnt today that an orca is a predator for a penguin." - Fisher
"I think they put a lot of effort into their work and the research just blew my socks off!" - Ewan
Sports Hall Athletics Finals 9th February
Today our Athletes took part in the third and final part of their Sports Hall athletics journey, this year. After making it through two qualifying events, they were up against the very best Kirklees had to offer (a pool of over 150 Primary schools). Team spirit was high throughout the event and we all cheered each other to new heights, but the standard of competition was incredibly high. We finished a very creditable eleventh place and the whole team should be amazingly proud of themselves for reaching this stage of the event. A few stand out performances go to the Girls Hurdlers, Olivia Parnell, Abigail Earnshaw, Evie Hurrell and Evie Mellor who came 5th in the whole of the Kirklees, and the boys Javelin team of Rhys Coldwell, Lewis Toth and Jaydon O'Kane who collectively came 6th in Kirklees. A massive well done to everybody, and big thank to Ruby's mum for supporting with the organisation of his event.
Week Commencing 5th February
A few members of class 6 visited the English Institute of Sport in Sheffield on Tuesday. They had the opportunity to watch developing and elite athletes take part in sports such as volleyball, table tennis, ice-skating and badminton as well as physically taking part in high jump, long jump and track relay events. On Friday morning these same athletes will be joined by others in the class to take part in the Kirklees sports hall athletics finals. We wish them luck!
We discussed what it means to be British. We thought about typical British traditions, food, landmarks, monarchy, values etc. and discussed how' Britishness' has evolved and adapted over the years to incorporate and embrace new things as society has changed. We all love fish and chips but nowadays burgers, curry and Italian food are also very popular amongst us! Equally, we all agreed that our traditional reputation for having impeccable manners has been enhanced by being a nation of tolerance for all members of our society. Here are some of the posters we created after our discussion...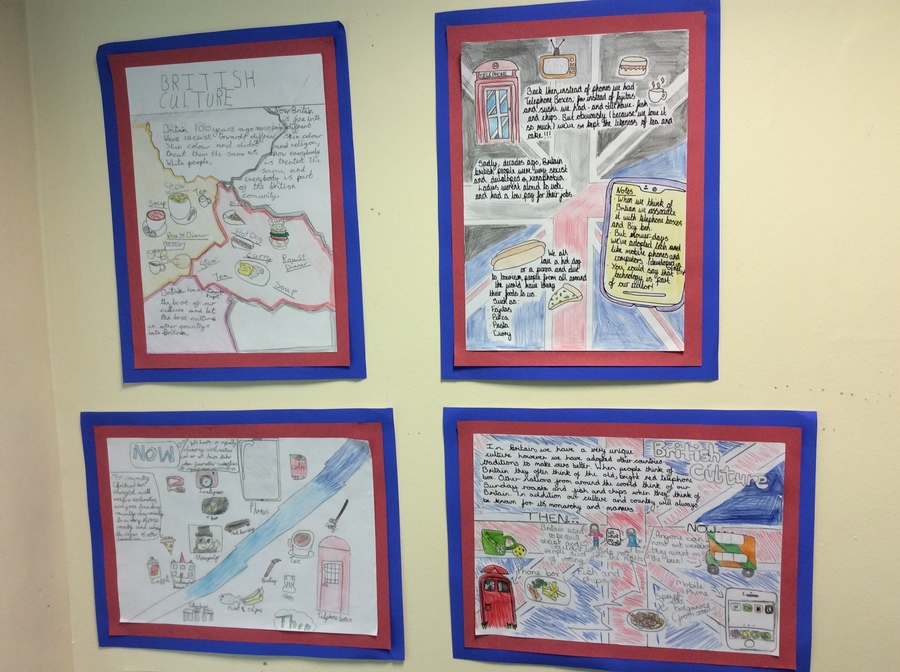 Week Commencing 29th January
Our new class book-'Trash' by Andy Milligan- has had us enthralled this week. It's an exciting plot based around three boys who, due to extreme poverty, are forced to live and make a living on a third-world dumpsite. We have used our compassion to empathise with these children by writing a diary extract from their point of view. We began by putting our heads together to create similes, metaphors and personification to convey the tough living conditions they have to endure on a day-to-day basis.
Week Commencing 22nd January
Continuing our Fairtrade topic, we looked at the variety of people involved in getting a banana (costing about 30p each) from the plantation to our shops. We then discussed and debated about what we thought a fair proportion of that 30p each person should receive. We were shocked when we learned that the reality of the situation is that the banana grower only actually receives 1p for each banana grown, whereas the supermarket receives a whopping 13p!
We also started our IT project of coding this week where we learned that by creating algorithms, we could make bubbles burst, aeroplanes fly and helicopters hover!
Week Commencing 15th January
We are now starting our spring term topic, which is 'Fairtrade'.
Today, we have been discussing Fairtrade premium (money from the programme which is spent on improving communities in third world countries). In groups, we prioritised the projects on which the money should be spent and gave reasons for our choices.
Rhys- We needed to make sure that each community had access to water as it would be unfair if some villages had a bore hole and others didn't.
Alex- We thought that each village should have electricity therefore we divided money equally to put solar panels in each community.
Ruby- We thought that providing malaria nets would be cheaper than spending money on employing a nurse.
George- It would be too expensive to spend all the money on a health clinic but maybe they would need to save money so that eventually they could afford one.
We also looked at the way in which tea leaves make their way from the farms of Malawi to the shops in our country. Here we are looking at the different stages of the tea farming process.
Class 6 all wish everyone a very happy Christmas!
Week Commencing 4th December
Our weekly music lesson was a relaxing break from tests this week. We are getting rather good at the viola and cello - lots of staff have popped in to compliment us on our progress! Have a look at a few photos of us concentrating on the music.
Week Commencing 27th November
'Creative with Clay' was the order of the day on Monday. Mini Aztec temples were the outcome and we think we did rather well! They're drying at the back of the classroom at the moment so that next week, we'll be able to paint them. Have a look at the photos of us all working hard.
Week Commencing 20th November
Lots of resounding victories this week, both in and out of the classroom!
The following year 6 children returned from the Newsome athletics competition with triumphant smiles on their faces: Rhys, Sophia, Sam B, Lewis, Jaydon, Charlie, Kaavi, Jack, Elliott P, Elliot K, Ruby, Olivia, Abigail. These children were hugely successful in winning their own personal events and subsequently, as a team, winning first place overall! We are immensely proud of them all. Well done!
We also had success in the kitchen as we prepared an Aztec feast in the lodge on Tuesday, where chicken fajitas and home-made salsa were on the menu. Some of us were also brave enough to face the 'Chilli Challenge' and acquired rather red faces as a result.
Week Commencing 13th November
Wow! What a busy and exciting week we've had this week. Here are just some of the things we've been up to:
Children in Need Market
We have been very busy preparing our money raising stalls at lunchtimes (and at home) this week. The result was a very colourful and exciting looking hall today (Friday) as we prepared to raise as much money as possible for Children in Need. Here are a few photos of us as we welcomed the children from Nursery and Reception to our market.
'U-Can Shine' day
We pushed ourselves with lots of running, jumping, hurdling and relay challenges as we partook in the 'U-Can Shine' day. Our resilience, co-operation and attitude was essential to our success with these challenges in the icy November conditions.
In preparation for our discursive writing on healthy eating, we produced some TV reports which detailed the pros and cons of certain food groups. Rehearsing these pieces will hopefully help us remember what we want to say next week.
After much excitement, we rolled back the years and went back to Reception Class- not permanently but to meet our reading buddies. We spent a lovely half hour sharing books with them, reading them stories and listening to them as they begin to understand how to read.
Week Commencing 30th October 2017
Our focus in Maths this week has been drawing, calculating and recognising different angles. We extended our learning by drawing polygons on the playground using chalk, protractors and metre sticks. This was tricky - the chalk was quite thick and the protractors were tiny for such big shapes. We persevered though and were successful in the end. We learned a lot about the properties of parallelograms - two pairs of parallel sides and opposite angles are equal in size. Here are a few photos to show our results.
Girls Football Tournament at Rowley Lane
Monday 16th October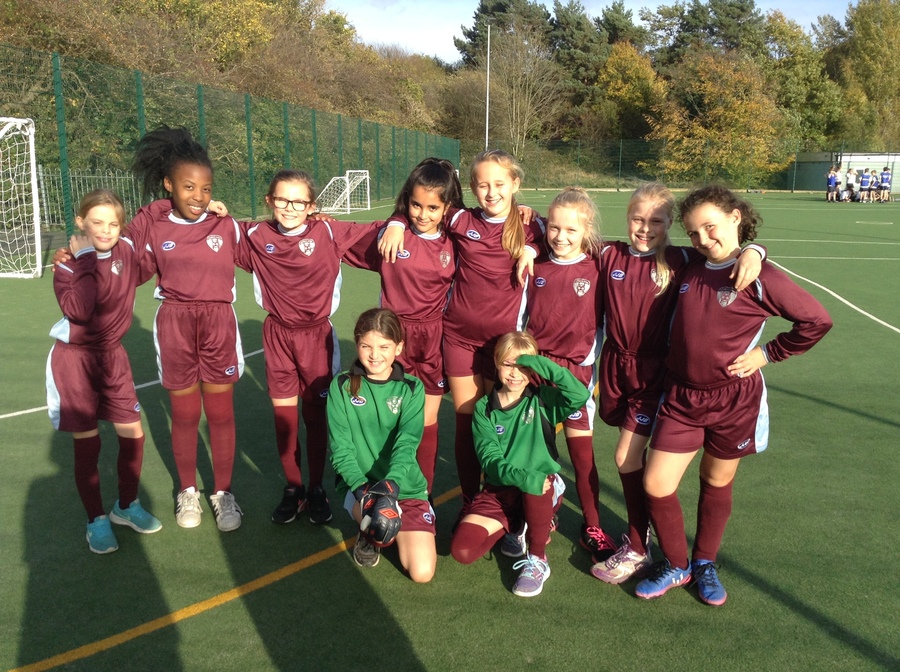 Week Commencing 16th October 2017
This week, we combined our Aztec topic with some Geography work. We located British towns and cities in the atlases and then our mission was to create Aztec style motifs to depict the names of British towns and cities. For example, Sam drew a picture of a brain in a tree for Braintree, whilst Alice decided to show the town of Rugby as a rug with bees buzzing round it!
We have also been challenging ourselves on the rowing machines, attempting to row as far as possible in 3 minutes. Jack was the winner, rowing a staggering 635m, whilst Chloe was the fastest girl at 578m. Well done, you two! We also had the responsibility of supervising other classes whilst they completed this exciting (but exhausting!) challenge.
Week Commencing 9th October 2017
This week we've put the finishing touches to our Aztec temples. We constructed wooden frames to act as supports for our higher levels and then used berries, leaves and twigs to add the final decorations to these structures.
Robin Wood - 29th September 2017
Just a few images which capture some of the challenges we faced and fun we had at Robin Wood last weekend!
It was brilliant!
Week commencing 25th September
Today members of St John's Church came to our assembly and presented us with our Bibles. Here we are looking very proud of them.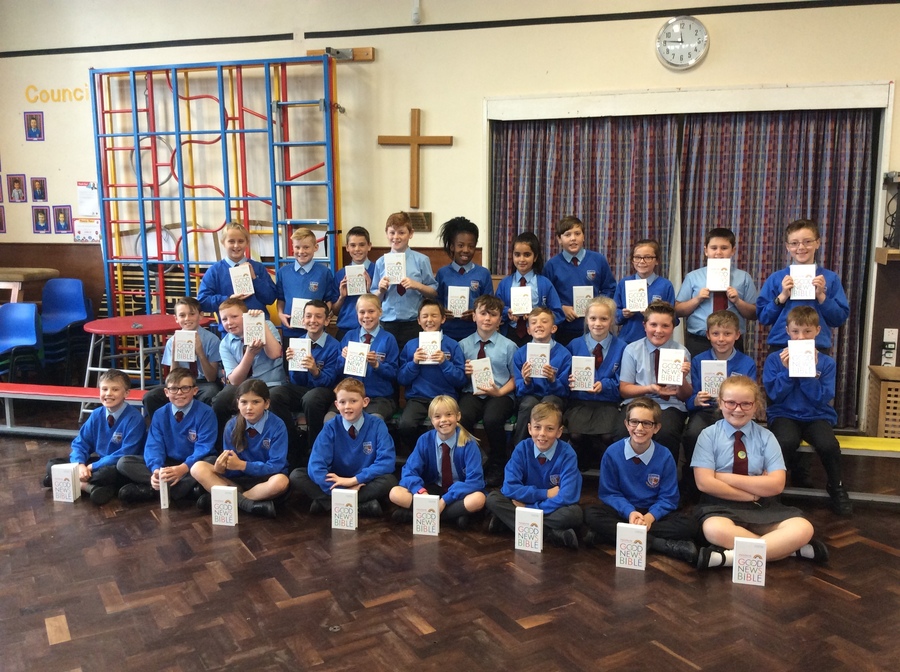 Week Commencing 18th September
This term our topic is Aztecs and we are learning about all aspects of this ancient civilisation. We are even building this in to our outdoor learning and so far we have made lanterns and Aztec jewellery. This week we will be building temples from mud! Here are some pictures of our lanterns.