In year 6, the class gets the opportunity to attend a residential at Robin Wood.
It is an amazing, fun adventurous weekend packed full of exciting activities!
Our class took part in many different challenges and a few of us overcame our greatest fears!
Here are some of the exciting things we got up to!
Caving
At Robin Wood they have a realistic caving activity where you climb through tunnels and do lots of mini games. In Benny's group we played a game where you saved a mannequin called Malcolm. In Kim's group we played a game from the well known Harry Potter film called Quidditch.
The Giant Swing!
The Giant Swing was one of the class favourites!
Lots of people enjoyed this challenge and some overcame their fears of heights!
Class 5 and 6 had a competition doing the mannequin challenge at their Christmas party.
As a result, Class 6 won because they held their position brilliantly!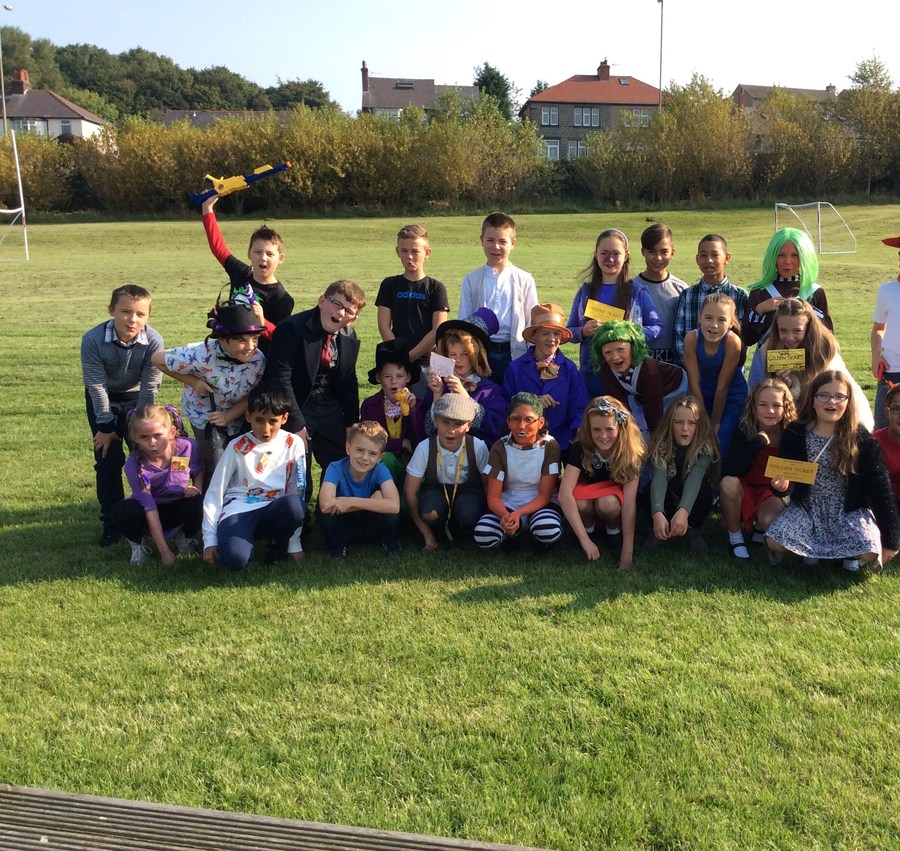 Today was Roald Dahl's birthday anniversary. This week in literacy our work was based around Charlie and the chocolate factory.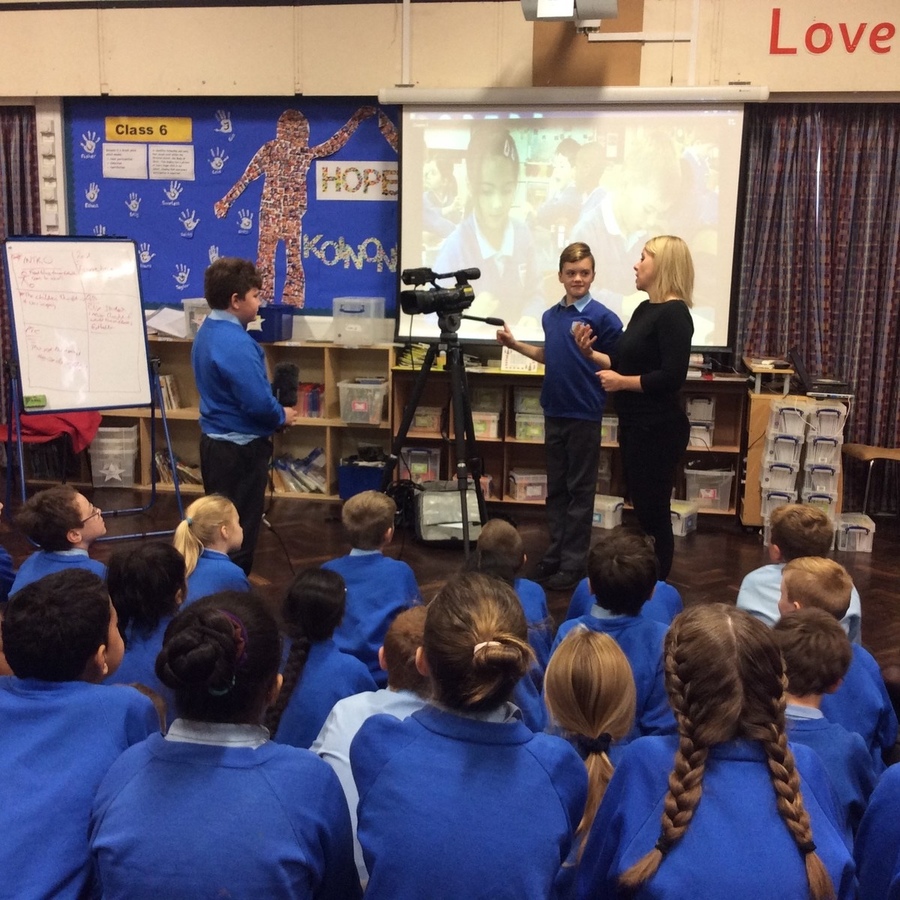 We have been lucky enough to have Danni Hewson (Look North's business correspondant) working with class 5 and 6. Danni delivered an inspirational speech to our class and ran workshops about reporting. The children took part in a competition to deliver their own news report. The winning groups were lucky enough to have a guided tour around the Look North studio and watch the 6.30pm news go out live.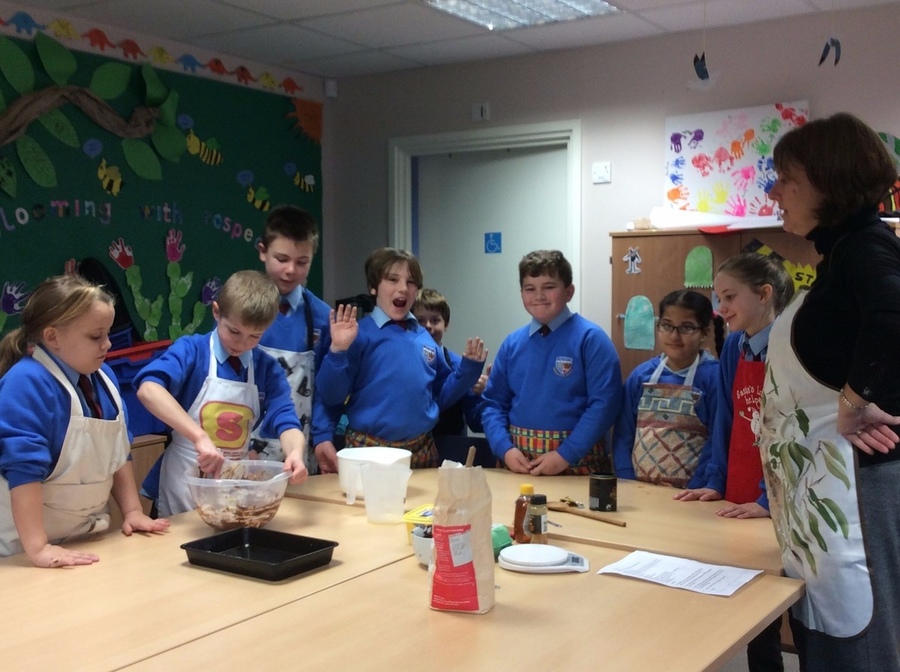 This term we have been focusing on the Aztecs for our Aztec Come Dine with me enquiry led learning. This topic has been full of blood and gore.
During the first half term, Class 6 took part in outdoor learning, building Aztec temples and cooking Aztec foods. We also made some lanterns with leaves and other outdoor materials.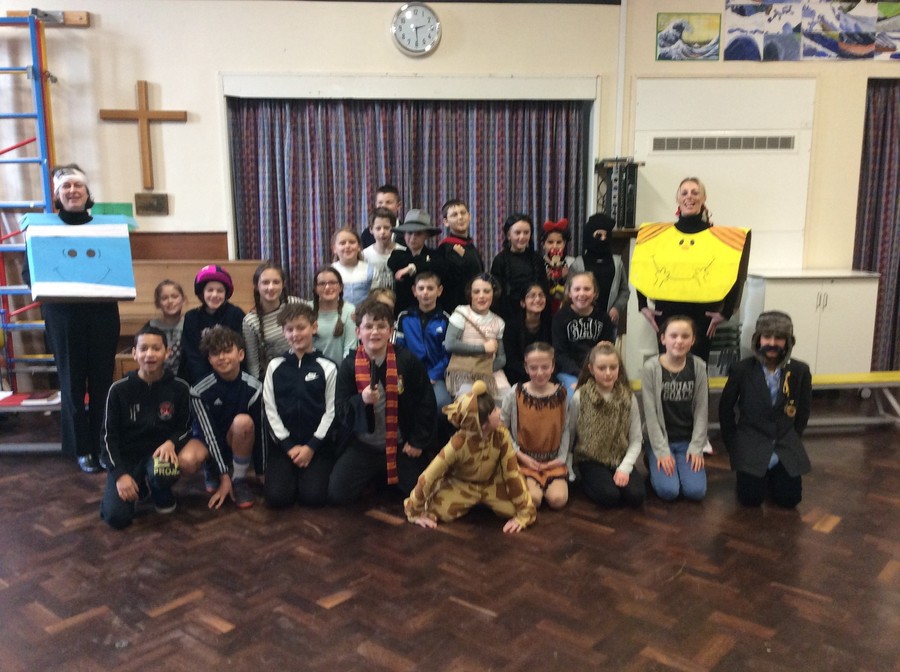 Thursday 2nd March was World Book Day! Every year from Nursery to Year 6 we all dress up as one of our favourite book characters! We had some super costumes. During the day we all took part in exciting activites and really enjoyed them, take a look down below!
This year we were visited by the poet Andy Tooze. He gave us advice on how he creates his poems and then we made our own. This year's theme was 'The Outdoors'. We had poems about camping, nature, sports and weather. Andy himself picked his five favourite and they were read out in assembly.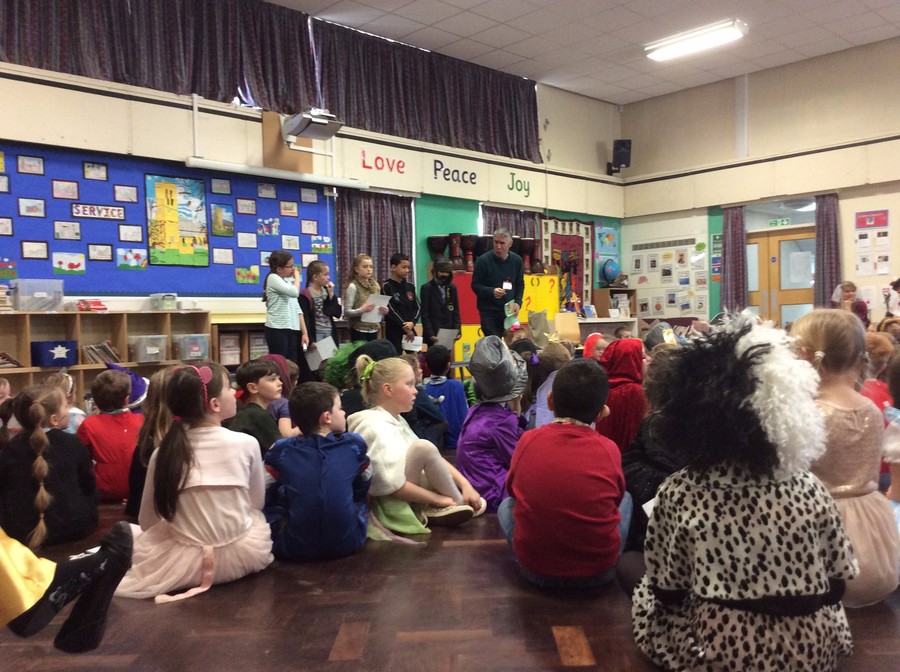 These were our five winners that read their brilliant poems out in the assembly!
As a whole school, we had a World Book Day quiz in our team houses. There were questions for the younger children and some questions for the older children too. We all had a fantastic time and we were very competitive! The Eagle House was the winning team and won the trophy and two-hundred housepoints for their house!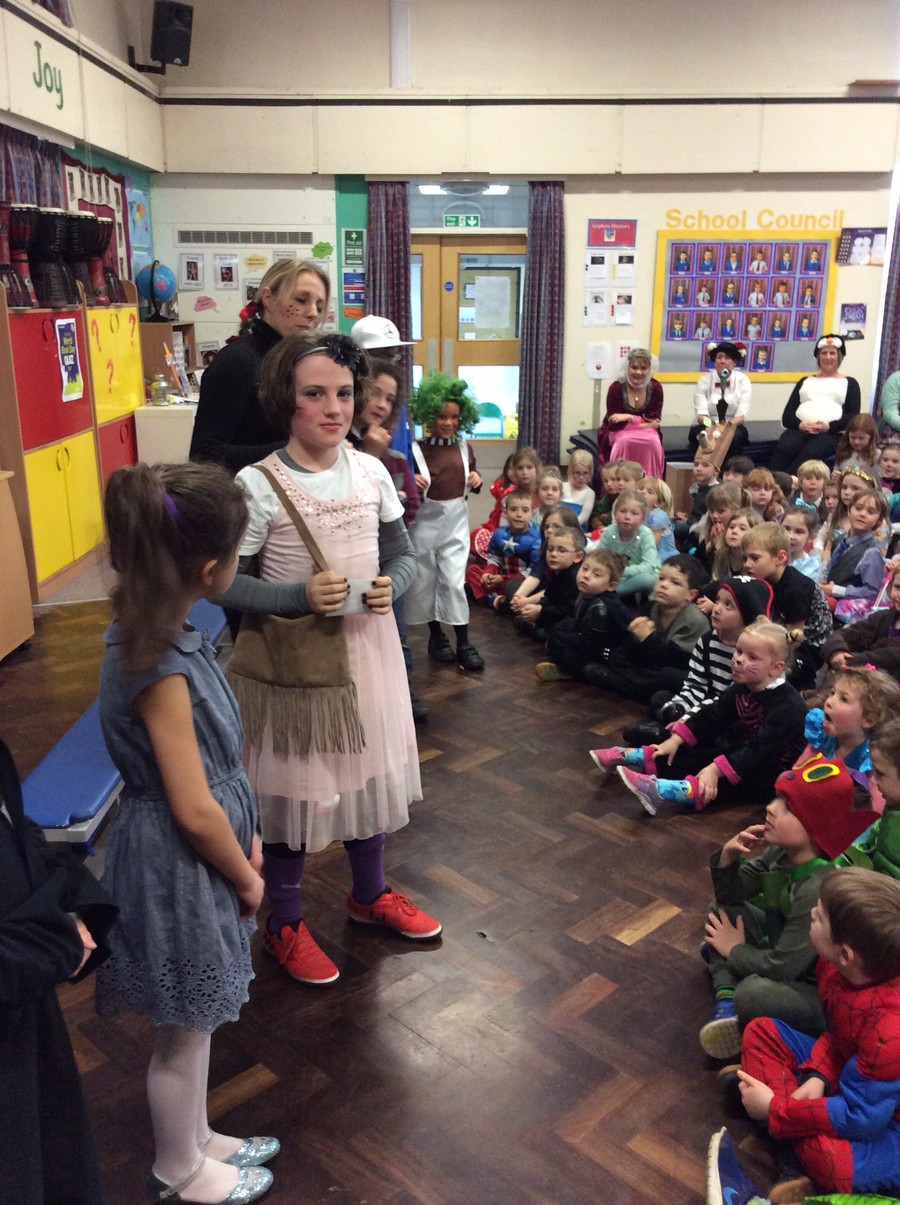 The best dressed for KS2 went to... Monty in year 6.
For the first time, our school entered the Kirklees World Book Day Quiz. These were our two teams, who all read between 5 - 15 books in order to answer questions for the quiz. There were six rounds with six questions each and we listened to some funny poems in between. There were about twenty-five other schools who competed. Unfortunately, our teams didn't win however, we had lots of fun and really enjoyed ourselves
On Wednesday, our class had an intense aerobic session! There were several stations and we completed each one for three minutes. Lets just say we slept very well that night!
Cadbury's World
On Monday 13th March Class 6 went to Cadbury's World in Birmingham. Although it was fun, we had to arrive at school for 6:50am and set off at 7:00am in order to beat the traffic. : )
When we arrived we walked through the exhibition and learnt lots about the history of Cadburys. After, we walked around the factory part and got lots of a chocolate!
Then we went to the 4D theatre and watched a short film. In the theatre the seats moved like you were on a roller coaster.
After we had lunch, we went to the shop and the playground. There was many slides and climbing frames.
Finally we went to the Aztec talk. We learnt a lot of new things that day and we all enjoyed it very much!
'Trashion' Show
This term we have been focusing on a book called Trash by Andy Mulligan. Relating to the book, we decided to perform a 'Trashion' Show.
We all made clothing out of recyclable items or rubbish. We had some very creative designs and we all enjoyed this topic.
(Unfortunately, the video of the show was too large to put on the website).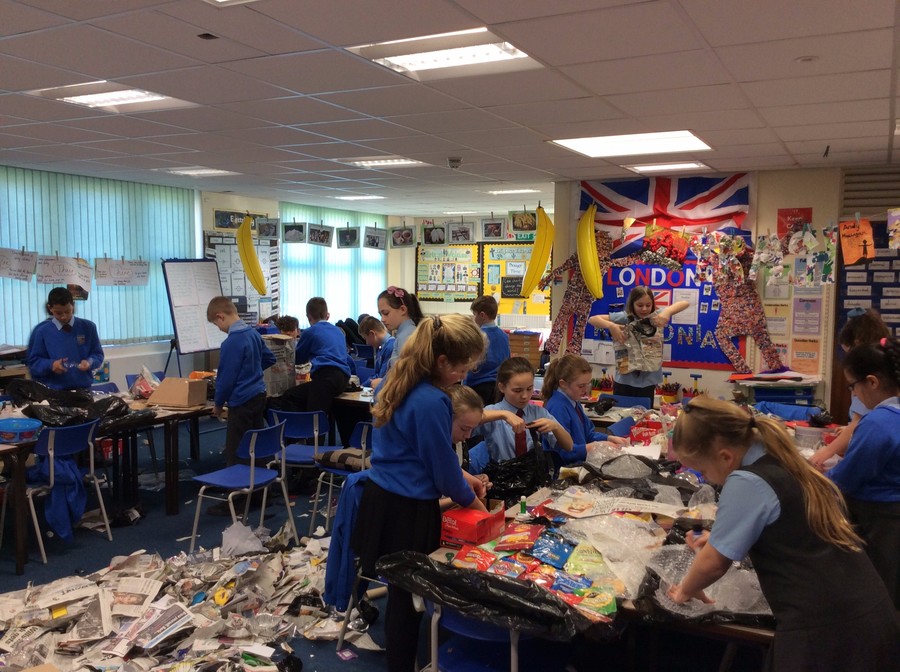 On Friday the 12th (the end of SATs week) Class 6 had a water fight.
It was fun and we got very wet. There were three challenges and we could win stars for camp.
In the first challenge we were stood in lines back to back and had to run to the cones. When you got back you could start shooting each other with the water.
The second challenge was Joey (our kangaroo) was in the middle of the field and we had to grab Joey and run back to our sides of the field successfully.
In the third challenge we went head to head. This was when we got the wettest!!!
Class 6's General Election - June 2017
This week Year 6 held their very own general election. We all split into groups and built our very own parties. Each party wrote a manifesto which was read out to the school. The following day, each class came into the hall, had a chat with some of the parties and decided their vote. The winning party, The 'We Can Party', won with a total of 84 votes. We all had a lot of fun and enjoyed the competition.
Well done to our new school Prime Minister, Isabella Kurmul, and her government cabinet members, Olive Lindley, Luna Manning, Sophie Raper and Sofia Goddard.
The last few weeks have been extremely busy with lots of exciting new learning!All of us passed our 'Bikeability' last week and earned certificates and badges. As well as that, we have enjoyed our cultural dance days; we really enjoyed learning the Haka - especially pulling scary faces as part of the routine!
In our outdoor learning sessions, we have been learning how to make fire safely and then to cook on it. Our pitta pizza pockets followed by baked bananas and chocolate were yummy. We weren't too keen on the nettle tea though. We have also recently been to Lepton woods with year 5 to make dens. We had a fantastic time!
Unbelievably, our last week at Lepton has arrived. It has been packed with all sorts of activities: on Wednesday, we spent the morning learning about first aid and now we all know what to do in an emergency, how to perform CPR and to how to put someone in the recovery position. We also performed our end of year music performance and showed off our skills on the cello or viola to the whole school, who seemed very impressed! Thursday was the day of our leavers' assembly, which was both funny and a bit emotional at the same time. Here is a selection of photos and videos of our last ever week at primary school. Goodbye Class 6 - it's been fun!