As part of our Cultural arts week we have been learning about Polynesia and culture and customs of this far flung society in the South Pacific.
Our Dance lessons have seen us learning the HAKA and the meaning behind the lyrics- the rehearsals have left us with sore throats and bruised legs but we have really enjoyed ourselves.
In English we have been writing reports about sport, history, landmarks, food and traditions in Polynesia.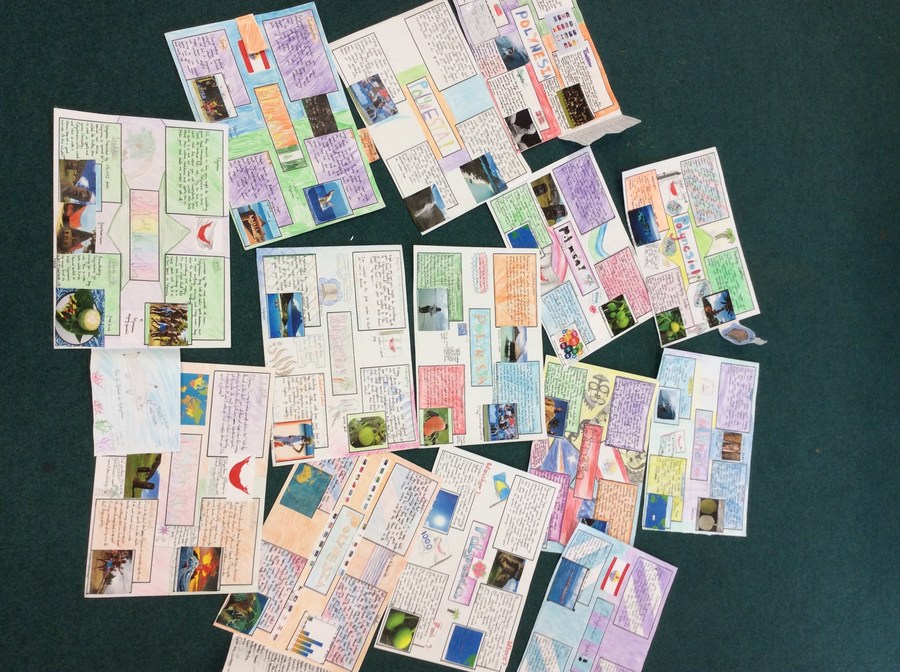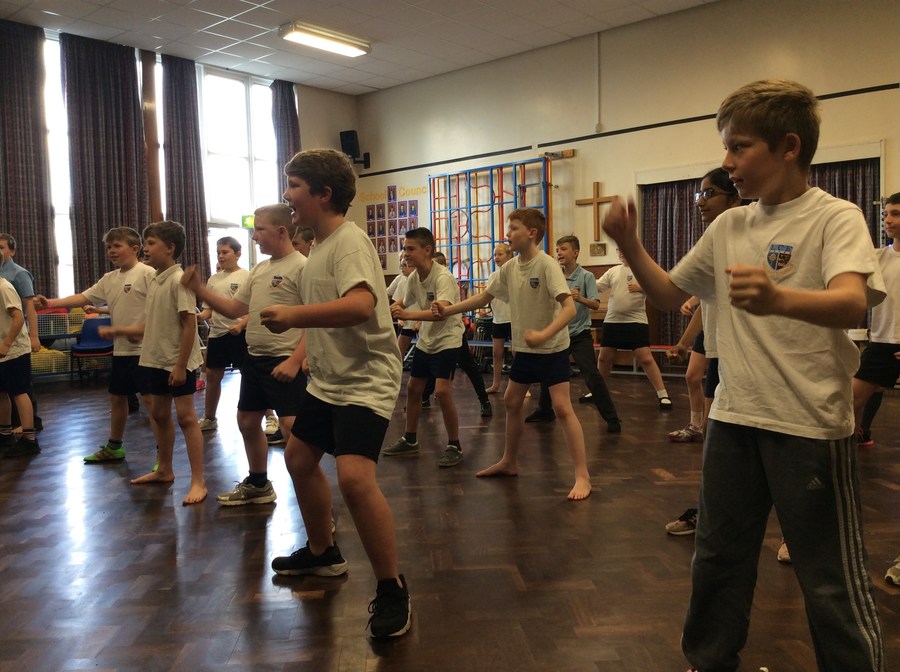 Planting Sunflowers in the school garden
Science
This week we have been learning about human life cycles, life expectancy and gestation periods.
Did you know the average life expectancy in the UK is over 80 years yet in some parts of Africa it is less than half that?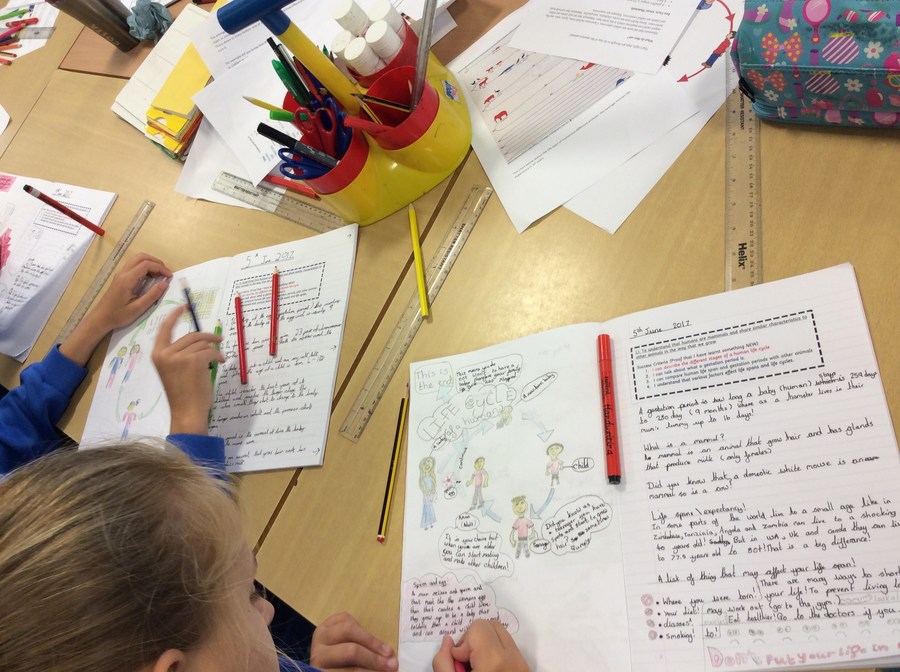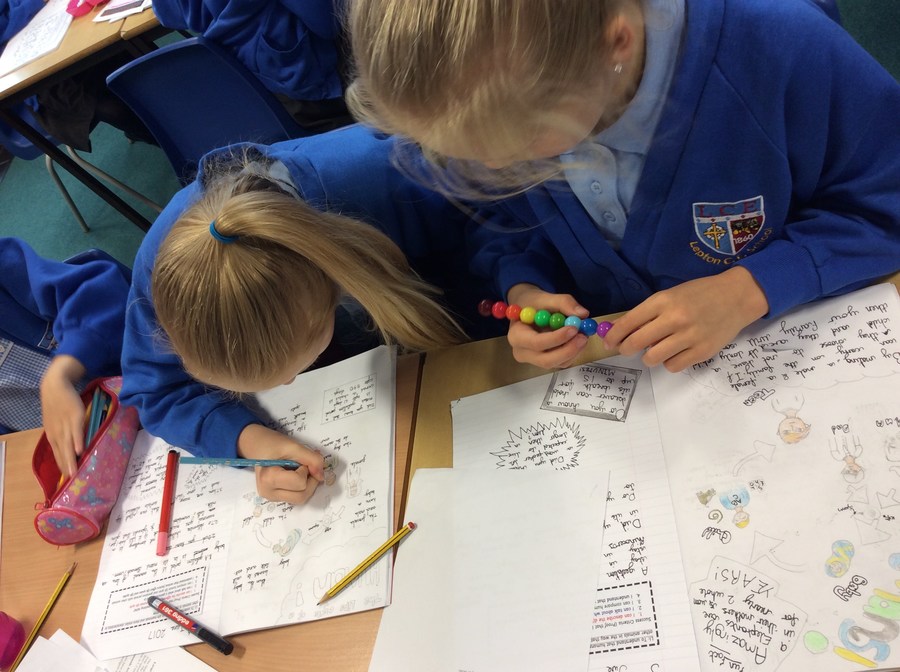 Here we are 'Dabbing' to celebrate a job well done. We completed our class assembly which looked at the story of Perseus.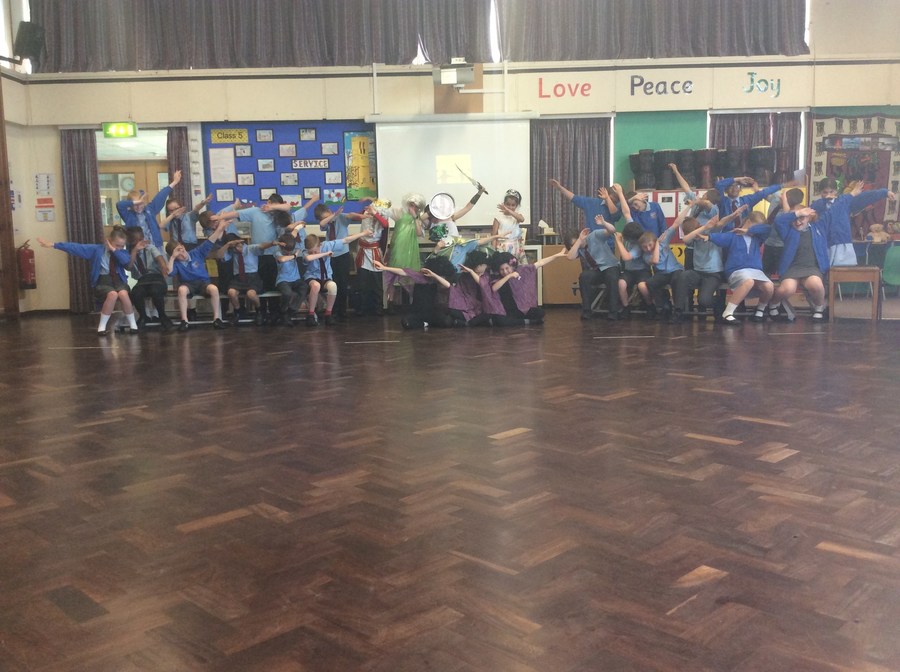 Our Five a side football league has started. The early matches have seen two Year 5 students become Hat Trick Heroes. Here is Kaavi on her way to scoring. George has also managed one!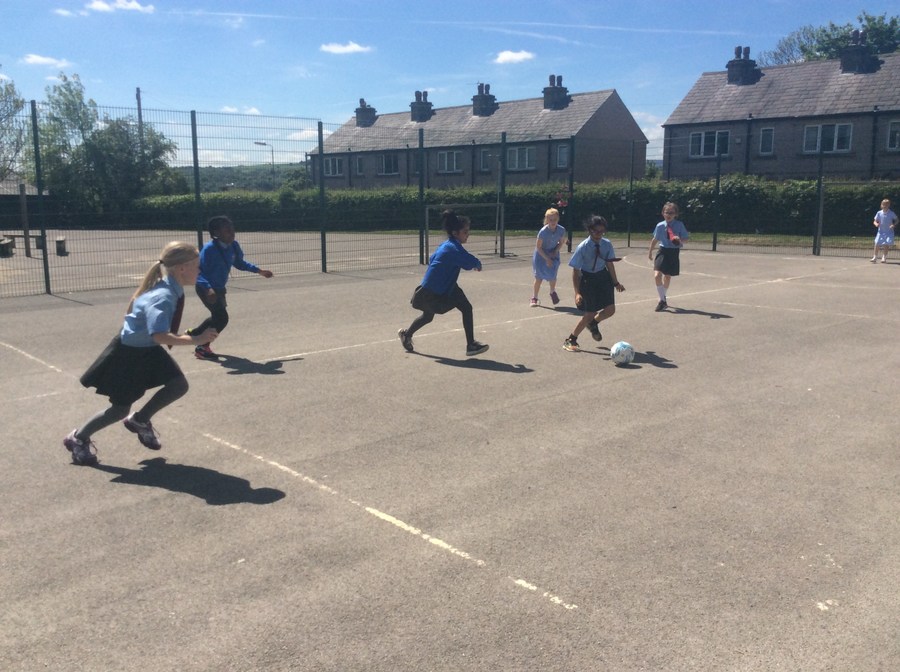 In outdoor learning we built mazes which we had to navigate our way out- Happily there was no minotaur in the middle of ours- though we did enjoy some timed challenges through these mazes.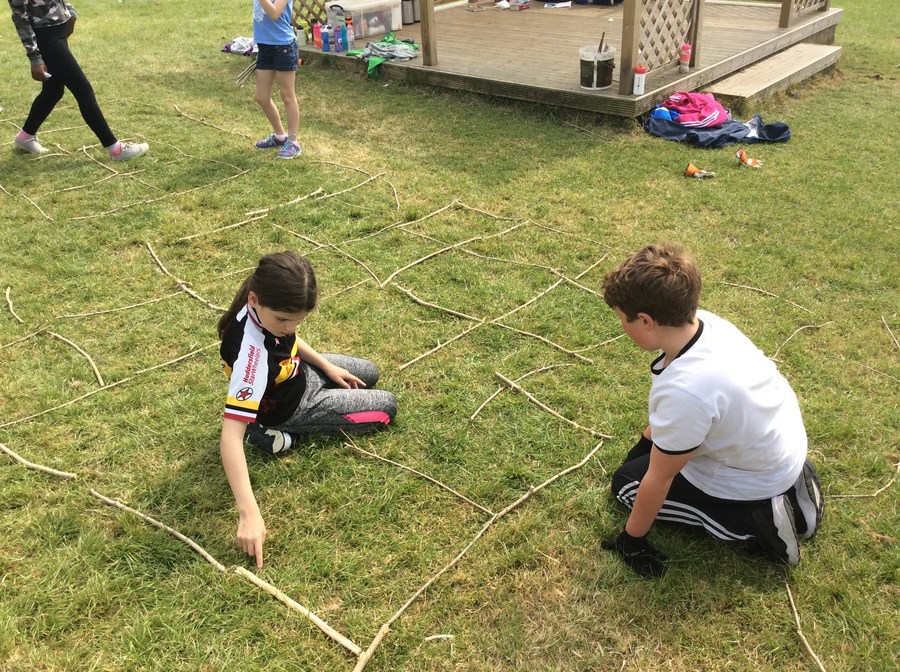 We looked at the artist Julian Beever and completed some pencil sketches which tried to replicate the sense of depth and perspective he creates.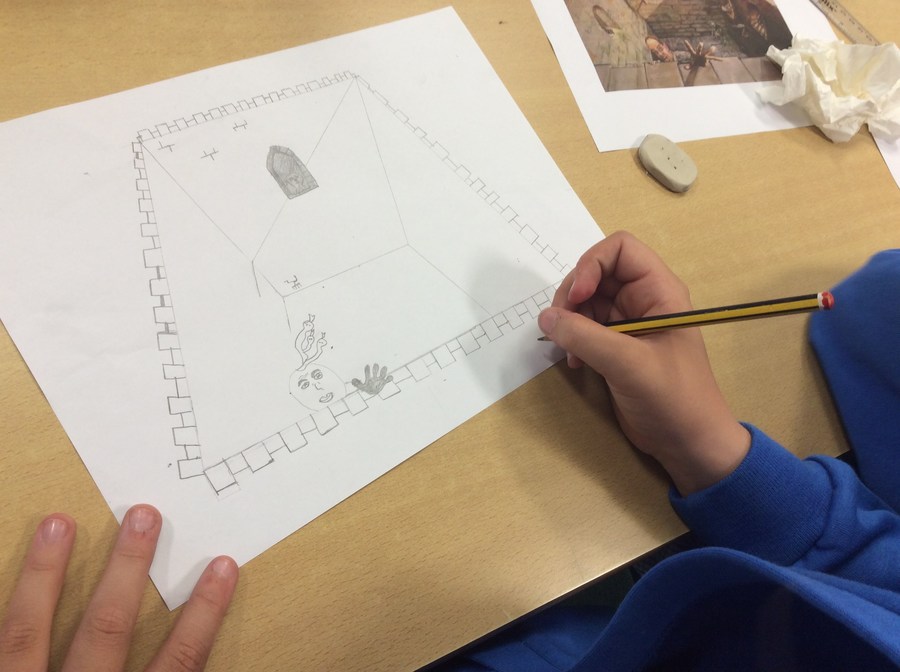 A job well done Class 5, your Easter homework projects have stunned me and Mrs Arnell!
You've raided lego boxes, food cupboards, and florists to put these mindboggling mazes together. A great start to our work on Theseus and the Minotaur. A big thank-you to all the friends and family who helped construct and resource these fantastic projects.
Mr Revell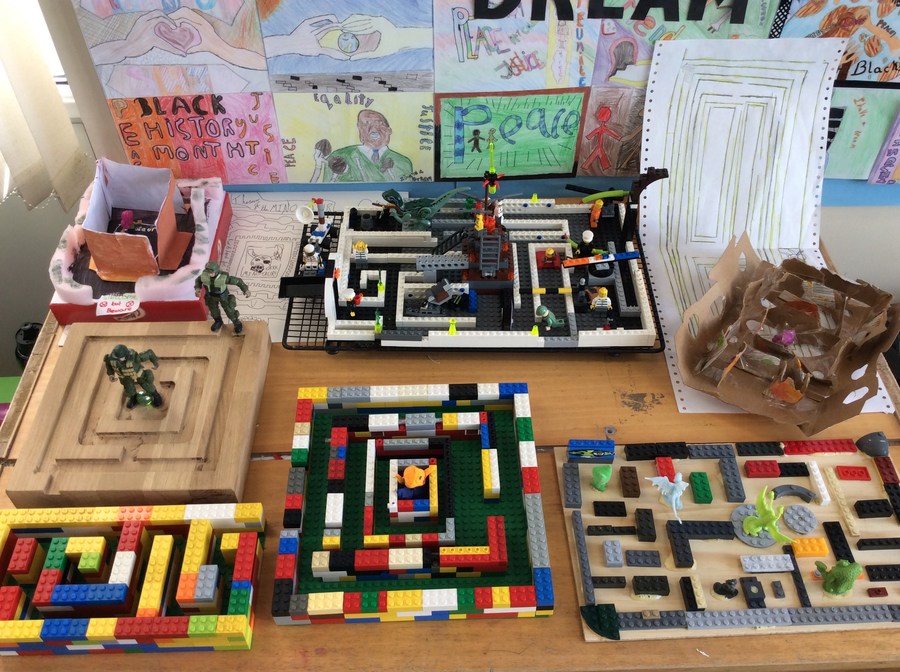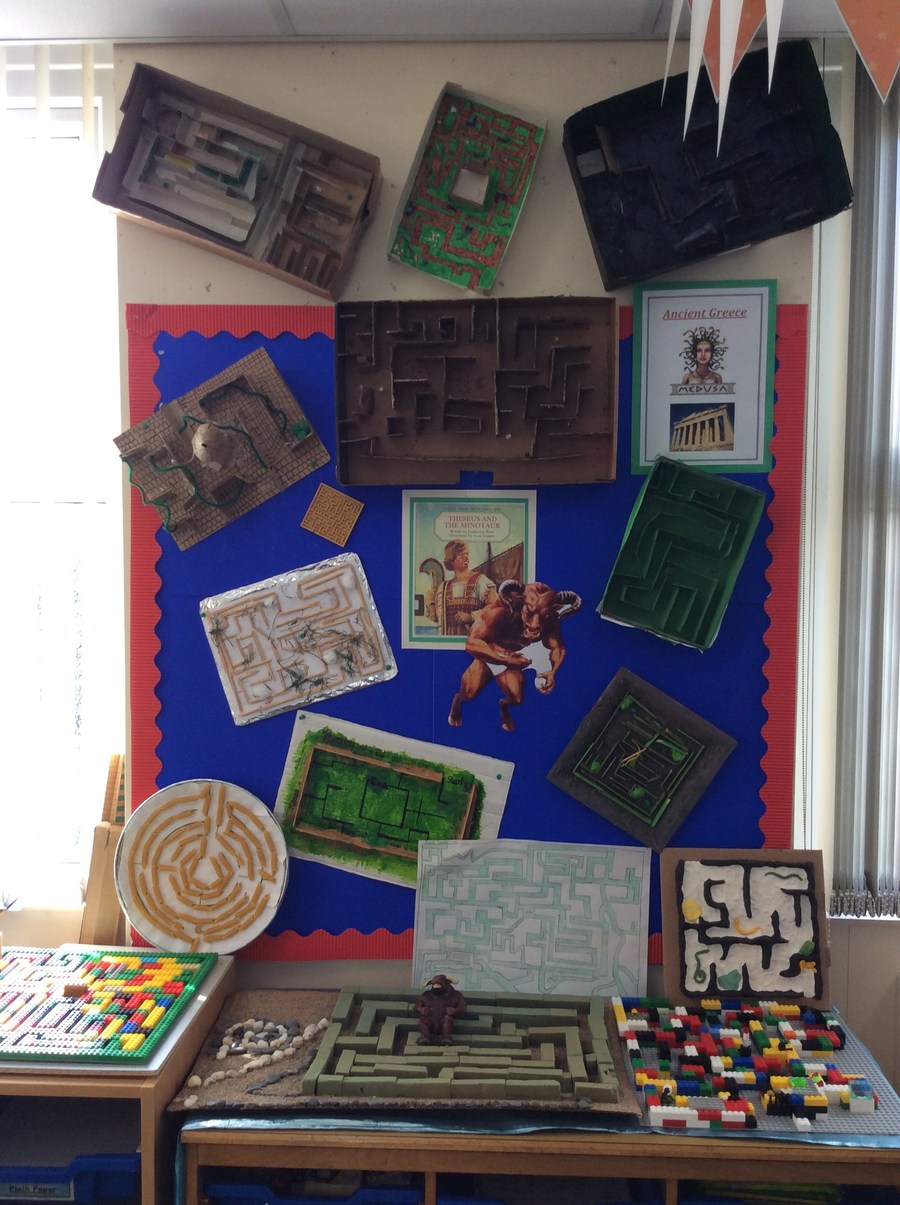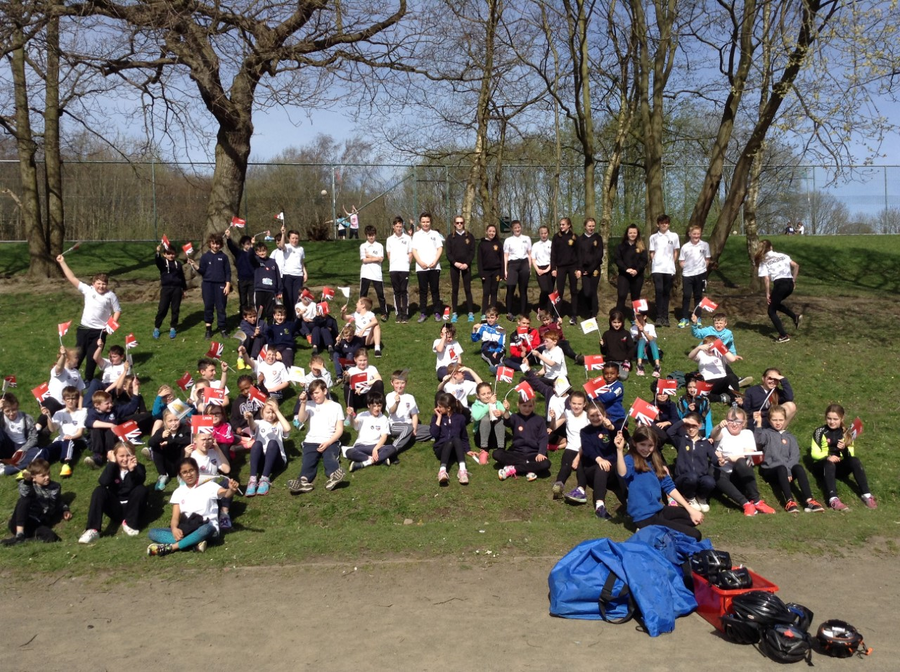 Tour De Yorkshire!
As the tour de Yorkshire is coming up very soon, the staff of King James High School invited us and Rowley lane to a cycling event. There were 4 activities which were races, obstacle races, how to fix a bike and a bike quiz.
Mr Revell made class 5 walk up to KJS and back. Medals, bottles and flags were up for grabs.
Around the world experience!
Over the last few weeks we've looked at our atlases, choosing countries (from around the world) which we studied to show our parents.
We scoured the internet, squeezing every fact out of this vast machine to gather information to perfect our presentations .
We also went home and conducted extra research just encase we had missed something.
Also we performed spectacular poems.
Our parents were in for a treat!
By Rhys and Jack.
Science - Inheritance
Today we have been looking at inheritance in our Science lessons and considering why we look the way we do. We considered whether our red hair or brown eyes was just pure luck or whether we had these determined by our parents.
We quickly recognised that Kaavi had inherited her dark brown eyes from her parents, that Rhys had got his fathers nose and that Abigail's blonde hair came from her mum.
We also looked at recessive and dominant genes that we inherit, and explored tongue rolling, arm folding, the length of our toes and whether or not our earlobes are attached.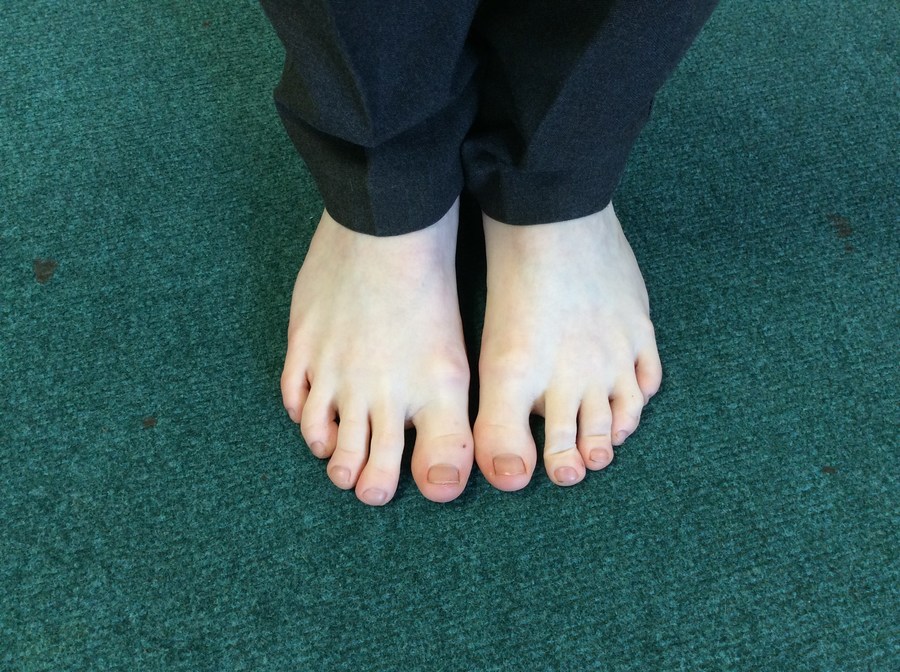 Geography/Map work
In Our Geography lesson we have been mapping our route around the world, Like Michael( the character in our book) we have chosen destinations that we would like to visit.
These included
The Taj Mahal
The Great barrier Reef
Mount Everest
The Great wall of China
Hogwarts Castle
Wembley Stadium
We used an Atlas to locate their venues, then we found the shortest route around the world. We then calculated -using a scale- how many km this journey was.
ICT
This afternoon, we were taught how to do coding, decoding and algorithms in an ICT lesson. We started at the basic level and worked our way to the more complex levels. There were different challenges that we had to complete on our way to creating our own game. On Espresso, we made games from popping bubbles to landing a rocket on Saturn. Maybe one day we could all become coding experts.
By Elliot Kerrison and Kaavi Mangat
World book day!
On the 2nd of March 2017, we celebrated world book day at our school and every child from nursery to year six dressed up as their favourite book characters such as: Harry Potter, Willy Wonka, Cruela de vil and many more...
Andy Tooze!
For a couple of days, the poet Andy Tooze came in to our school and helped us to write our own fantastic poems. There was a competition where four children were chosen from every class to read their poem out to the school but only if your poem stood out from the others! The poems were about anything outdoors and some were about sports, weather and insects etc. He also showed us his poetry books that we all loved as they were very funny to listen to.
On a personal note I was very proud to read my poem out to the school!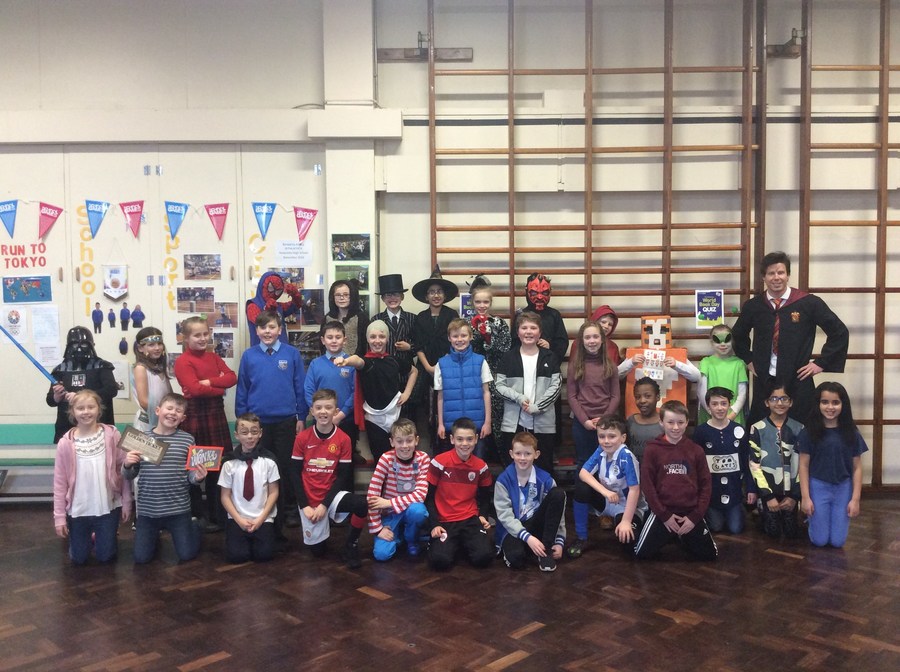 Roald Dahl!
In literacy, class 5 have been focusing on the book James and the giant peach. The skills we used in our writing were openers and figurative language such as similes, metaphors and personification. We had great fun learning all about James's adventures and meeting all the different 6ft tall insects and thinking about the adventures we could go on if we lived in a peach!
Year 5 and 6 quiz!
In addition to this, we all came dressed up as a character from any Roald Dahl book, this is because it was his 100th birthday. Year 5 and 6 went outside onto the field and had an amazing time working in teams to answer a Roald Dahl based quiz hosted by Mr Revell and his wacky questions. The lucky winners were... The EAGLES!!
Music!
This week the entire school have been learning different musical instruments. In year 5, we have been learning how to play the clarinet's and there was a lot of screeching at first but hopefully as the weeks go on we will get better. Our music teacher is called Mr Mason.
By Kaavi, Olivia and Chloe.
Science!
In our science we have been learning about space, my favourite part was doing some art work about rockets. I also liked are extended write about the different planets, I am fascinated about Saturn and Jupiter.
I have also learned that the moon orbits Earth every 28 days- however it always looks different. When the moon looks like a ball its called a full moon and when its got a bit out of it is either a waxing moon ( meaning its growing) or a waning moon (meaning its dying). By Alex Llewellyn
News Reports with Danni Hewson
In our English lesson we were visited by Danni Hewson ( BBC look North journalist ) and she taught us what life was like behind and in front of the camera. It was a competition to see who could write the best script, direct the most realistic news piece and finally act the most confidently in front of the camera ;the prize will be to go to BBC Look North!!!
We Braved through the cold and frost and had a great time!! We took top tips on how to speak on front of the camera, and Danni helped us bring our scripts to life. We didn't realise how many 'takes' are required to get things perfect!
By Olivia and Abigail!
Macbeth and Football Tournament
This week we have been performing play scripts to our classmates. We knew that the Young Shakespeare Company were coming to visit us so we thought we would prepare with a little bit of acting of our own.
We used the school as our setting and have dressed as Dinner Ladies, acted as Androids and unleashed Killer clowns and Giants in the school grounds. We wrote our own scripts and then performed them…. We laughed a lot at some of the comedy on show.
We finished the week by watching Macbeth, sorry 'The Scottish Play' we were encouraged to join in to create atmosphere on the wet and windy moors and during the key battle scenes.
Out of school many of our girls went to the football tournament at Rowley Lane to compete in a round robin Tournament with schools from Hillside, Rowley Lane and Mount Pleasant attending. Each of our three teams played five games each; it was an exhausting( and in some cases bruising) evening. We all had great fun and every one of our teams represented the school proudly scoring goals galore! Our teams came 2nd, 3rd and 6h at the event and already we are looking forward to our next tournament in March!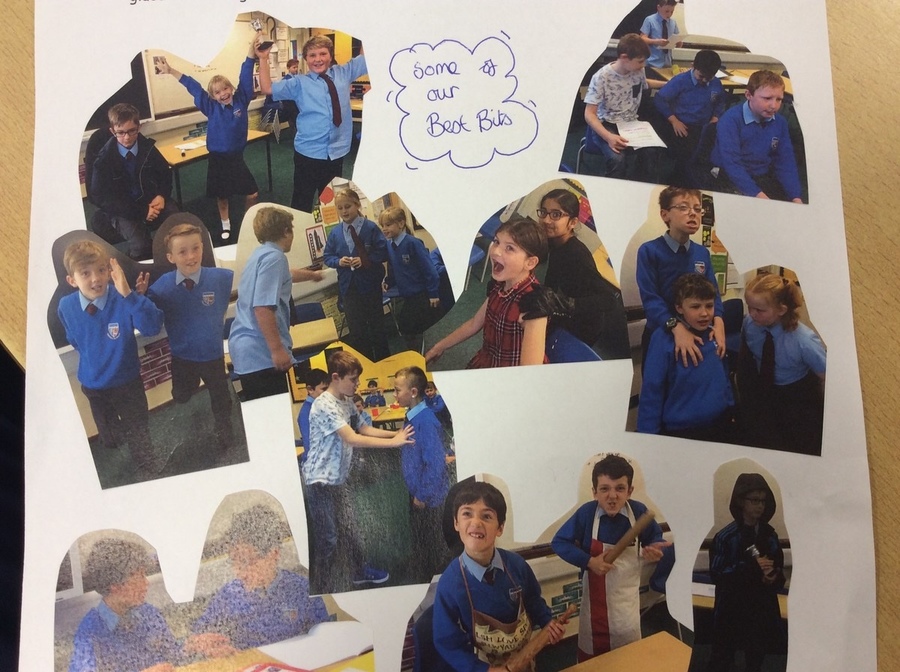 Across the week we have been looking at unit conversions, converting kg into grams and cm into metres and mm. We are making our own set of top trumps based on hand span, foot size and of course height. Of course this required us to be able to use a measuring scale accurately.
Did you know?
George is 142.9cm
Ruby's hand span is 147 mm
and Toby's foot (without a shoe) is 0.216m
In gymnastics we have been practicing a few key balances, focussing on straight legs, still posture and holding a balance for a minimum of three seconds.
Here are some action shots of us....
Jodrell Bank
Class Five braved the storms to venture over to Macclesfield today and to visit the Jodrell Bank. The day was full of interactive experiences and we all learned something new.
Did you know that there are 3403 planets that are known to astronomers? Or that the Milkyway's next door neighbour is called Andromeda Galaxy? Did you know that Mar's two moons are named Phobos and Deimos after Fear and Terror? This is because the Greeks thought that fear (the faster moon) was being chased by terror (the slower of the moons). We now know how rockets propel themselves, have seen footage from inside the International Space Station and mapped the night sky from inside a planetarium.