Vicious Viking Day and Viking Feast
Science - States of Matter
This week we have been investigating solids, liquids and gases.
We have really enjoyed timing how long it takes for ice and chocolate to melt. We got a bit messy!
We did not know if Carbon Dioxide in fizzy drinks weighed anything, so we conducted an investigation to see which drink had to most fizz!
Science has been lots of fun this week.....
Cultural Dance Performance - African Gumboot Dance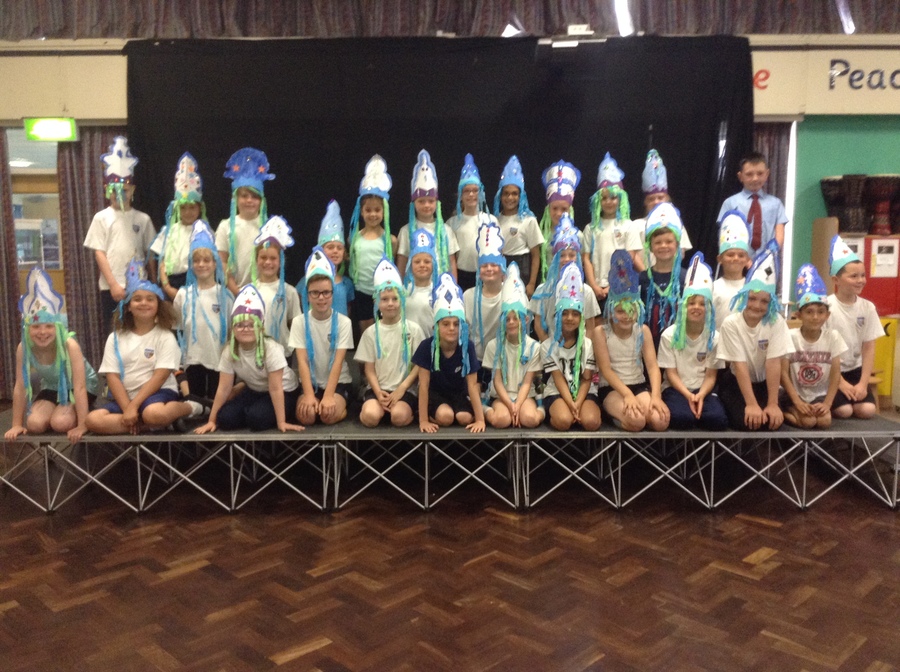 Den Day
Friday 16th June
In aid of Save the Children we went out to the woods and built dens and shelters.
We were only able to use resources from the woods and the only thing we were given was string!!
We had lots of fun and we were very proud of the dens we managed to build.
Monday 5th June 2017
African culture workshop
Class 4 visit Huddersfield Parish Church
On Friday 18th May, Class 4 went on a school trip to Huddersfield Parish Church. We learnt about Baptism and Holy Communion. We had a fun morning as Thomas, Miloe, Eva and me dressed up!
As we looked around we saw many new things. If you don't know where the church is, its in the middle of Huddersfield town centre.
By Eva Southwell.
We arrived at Huddersfield Parish Church in the morning. As we walked in, there was a huge entrance with a beautiful stained glass window. The people who showed us around were both called Simon!
One of the Simon's showed us the font. Thomas and Eva wore vicars clothes!
By Alfie Coates
All of Class 4 went to Huddersfield Parish Church. We went up and down lots of stairs and got to feel inside the font. I didn't expect a really big font! We saw how vicars use bread and wine for communion. It was amazing. We had so much fun!
By Evie Mellor
Danish Longball
On Monday Mr Fox came in to teach us how to play Danish Longball. It is very similar to rounders.
We had lots of fun playing the game and we can't wait to play the game again soon!
Viking life theatre boxes
Amber - On Thursday 11th May Class 4 made a theatre box each using scenes from Viking times. We all used shoes boxes and lots of different materials to construct the scenes. They look fantastic!
Catherine - We had lost of fun making theatre boxes because we got to create an authentic looking scene from Viking life in a shoebox!
Benjamin - When I was making my theatre box I had so much fun! Mine had a Viking long ship arriving on an island ready for battle. My theatre scene turned out very well.
Viking Bread
On Tuesday 9th May, Esther made some Viking bread. Most of us had honey on it and it was delicious - everyone loved it! - Ruby.
On Tuesday we were lucky enough to try some Viking bread; it was delicious with honey as just a little bit dry. Interestingly, the bread was very realistic as it did not have any yeast in it. - Catherine.
I loved the bread especially the honey! They didn't have yeast so it was quite thick and flat. It didn't have much taste so some children did not like it. - Max.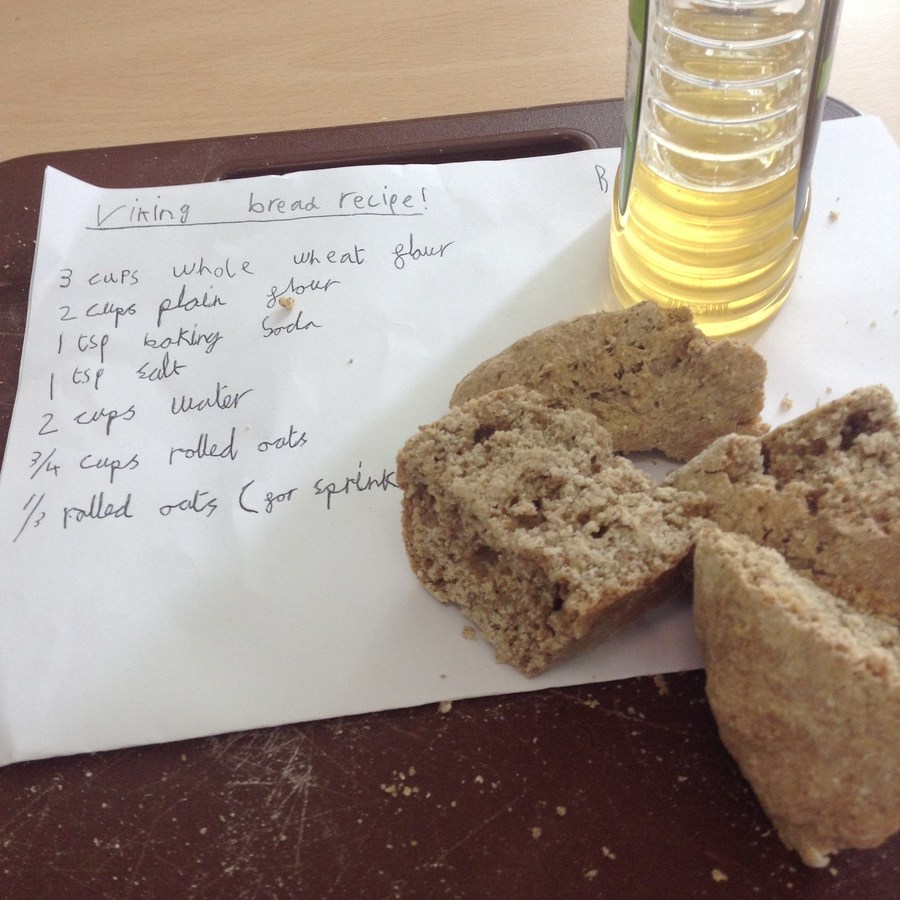 Our Eggcellent Eggsperiment!!!!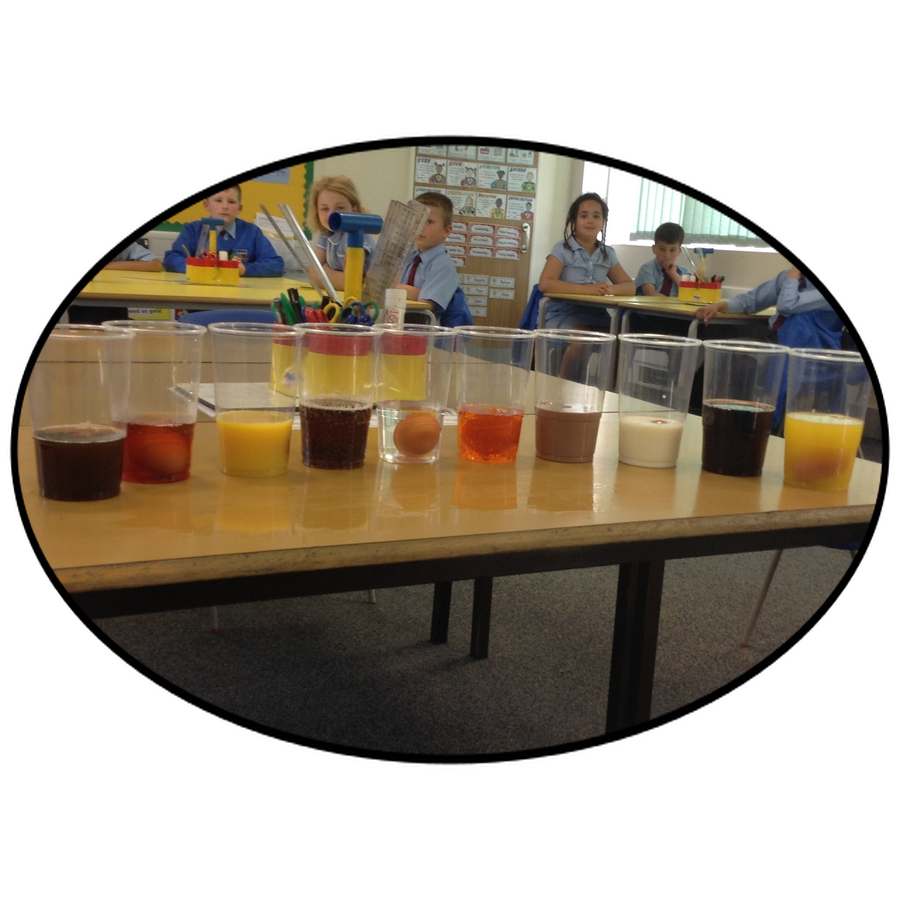 We are learning about teeth for our science topic and have asked the question "What effect does sugar have on our teeth?"
To investigate this further we are putting eggs into some our favourite drinks to see what happens to them!
We are using eggs as the shells are made out very similar material to our teeth.
Watch out for the results coming soon..........
Vicious Vikings!
Our topic for the summer term is The Vikings.
Over the Easter holidays many of the children began to learn about Vikings in a variety of different homework projects.
We have been totally blown away by the homework that has been brought in and the time and effort spent on them by the children and their families. Thank you!
Here are a selection of the amazing homework projects we have received:
Gruesome Gargoyle Gallery
We have been learning how gargoyles were used in Viking times to ward off evil spirits.
Gargoyles are carved stone creatures and are known as being grotesques.
You can still see them on many on buildings and churches today!
We have designed, named and created our gargoyles using clay.
Sharing with Year 2
This year we have been lucky enough to be involved in shared reading with Year 2.
As we have come to the end of our Rainforest topic, we wanted to share our learning and baking with our Year 2 buddies. We think they really enjoyed our cookies and muffins!!
Rainforest baking day
We have been researching the produce that we get from the Rainforest and have designed s0ome recipes to make during our baking day.
We chose to make Banana Muffins and Mango and Chocolate Chip Cookies.
We had to follow the recipe ourselves and the buns and cookies were fantastic.
Kwik Cricket
On Monday the 6th and Monday 13th March we played cricket with Mr Fox from Newsome High school. We used our throwing and catching skills and practiced these at the beginning. When we were ready we started to have a real Cricket match. We had so much fun!! - Tegan.
I loved the Kwik Cricket, it was fun and we all tried our best. Mr Fox was really impressed with all of us in this session. - Ruby
For 2 Tuesdays in an afternoon we went outside to play cricket. Our teacher was called Mr Fox, he was a really friendly man. He told us that we needed to nudge the ball until we got our confidence. I really enjoyed these lessons. - Eva H
We are taking part in 'The Great Row' challenge at Lepton school. We are competing against other schools in the area to see who can be the best at rowing. It is a 3 minute challenge and we all have to see how far we can row in that time. There will be a winner in each class and hopefully Lepton school will win!
On your marks, get set, Row!!
World Book Day 2017
Karesha - We all dressed up as our favourite book characters and the costumes were amazing. Andy Tooze came to our school and did workshops with each class. We got to write fun poems on the theme of outdoors.
Ruby - I thought all of the costumes were amazing and the teachers costumes were amazing too! I loved the World Book Day quiz. We showed great teamwork and we all had fun.
Amber - On the 2nd of March, Class 4 had the best day ever! We dressed up as book characters and everyone's costumes were brilliant. I came as the mad hatter from Alice in Wonderland. We also had a whole school book day quiz and Andy Tooze came in and is the best poet ever. It was amazing.
Blythe - I liked that some costumes were funny and I liked the World Book Day quiz because my house won. I liked it when Andy Tooze came in because first I did not like my poem but I did another one and it was great!
Benjamin - Andy Tooze came in on Wednesday and Thursday, he is a poet. Thursday was World Book Day and we all dressed up. My favourite costumes were Stick Man and Paddington Bear!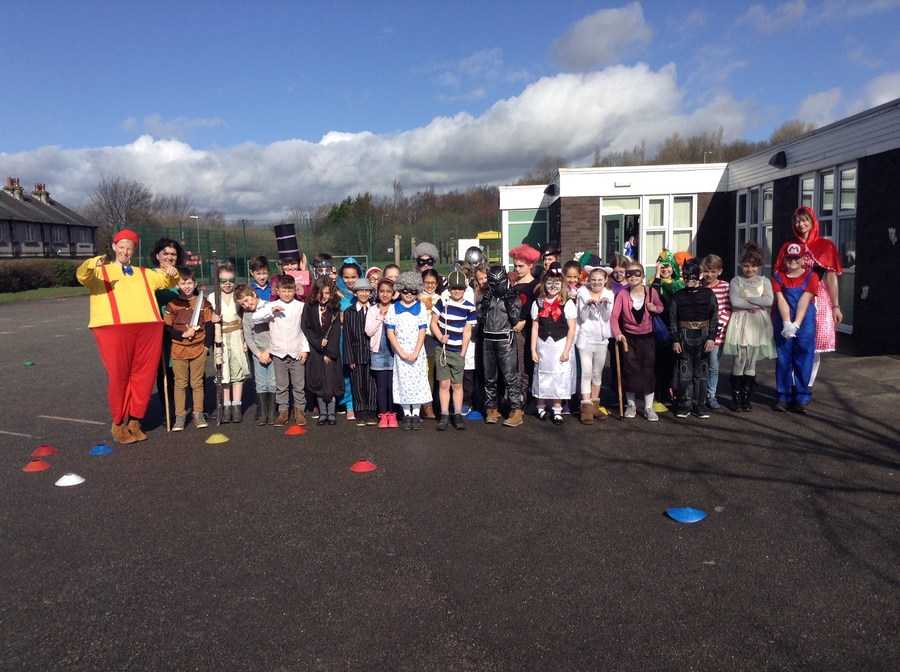 Fruity Artwork.....
Class 3 and 4 have been creating fruit sculptures inspired by the work of Giuseppe Arcimboldo.
We designed and created our sculptures using fruits donated by Morrisons and parents from class 3 and 4.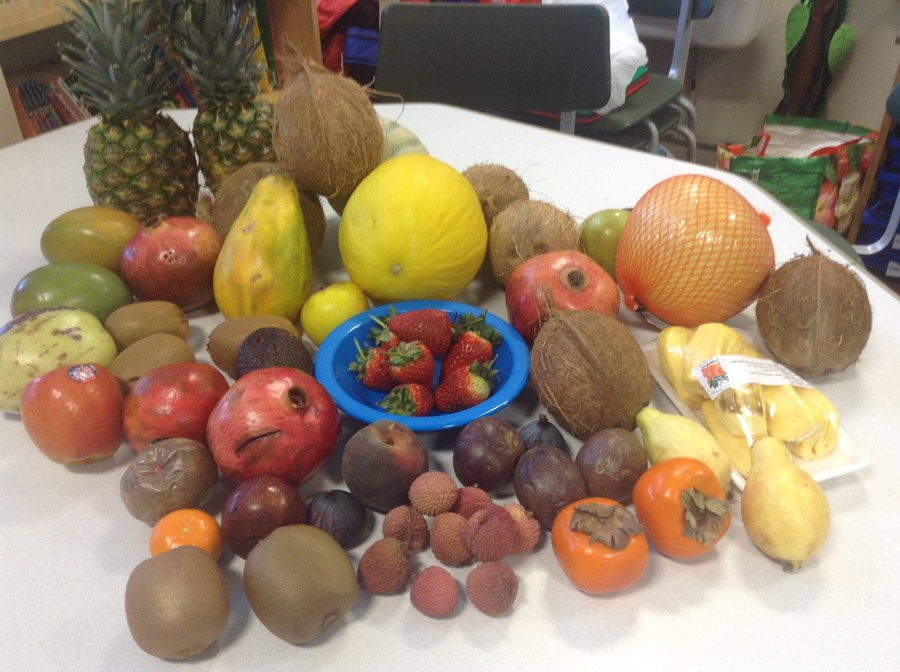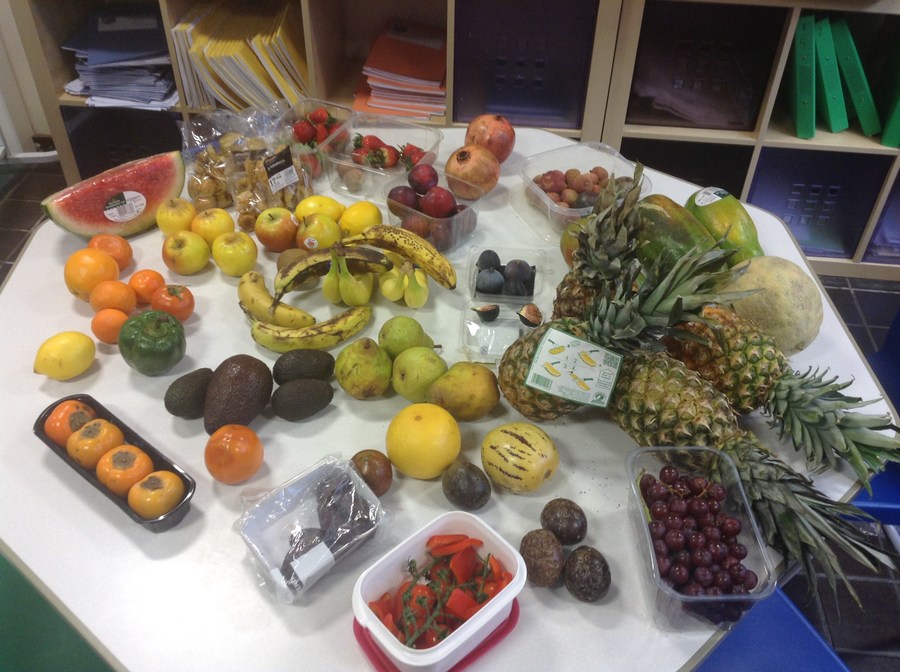 Class 4 Animal handling experience with Meet a Creature!!
Tuesday 10th January 2017
Amber Kelly - I loved the animal experience and so did the rest of Class 4. My favourite was the Water Dragon because I had it on my shoulder for nearly the whole session. It was such fun!!!
Ben Dyson - I loved the animal handling experience and most of the animals I had never seen before. I loved it when I held the Gecko, it felt like Jelly! Both types of Gecko were adorable.
Jayda Baldwin - In Class 4's animal handling day we held a Lizard, a Tarantula, rats and much more. We learnt lots of interesting facts about the animals and it was good fun.
Christingle making with Year 2
Year 4 had great fun making Christingles with Year 2. We worked together and also shared the work we had both done in our books as well.
Year 3 & 4 - Carol singing at Valley View
Nativity - By Caleb Ellis
Leptons schools nursery nativity was fun. There was a camel and his favourite word was Humph!
They did very well with their performance and we were very proud of them.
The KS1 nativity was really funny when the angels kept getting their singing wrong. They kept rehearsing and eventually got it right and sang for baby Jesus.
I really enjoyed both of the nativity performances.
The Pantomime - Peter Pan!! by Leah Blakemore.
We went into the hall and found out that the pantomime was Peter Pan!
Loud music came on and we all got very excited. Tinkerbell came on stage and we all clapped along.
We were able to get up and dance to the music.
The show was fantastic and we all really enjoyed ourselves.
CLASS 4 - CHILDREN IN NEED DAY! - BY JAYDA AND TEGAN On
Monday at Lepton School the teachers and staff had a competition to get Pudsey to come to our school for Children in Need. Out of the U.K only 20 schools got Pudsey to come to their schools.
We asked interesting questions to Pudsey Bear.
On Friday afternoon we made fun stalls to raise money for children in many countries all over the world and for many charities. We raised £600 to help children to have a better life.
On Friday it was the best day ever because we all worked hard on making different stalls.
11/11/16 - Remembrance - Catherine Taylor and Eva Henman
The end of WW1 was on the 11th hour, on the 11th day of the 11th month. This is why Remembrance Day is at 11 o'clock on the 11th of November. Every year we have 2 minutes silence to remember the soldiers who fought for us. Soldiers had to endure 6 years in dreadful trenches. Every year we buy poppies from the Poppy Appeal and wear them with pride. Winston Churchill endured Hitler throughout WW2 and Britain won WW2 and celebrated with street parties. The happiness was tinged with great sadness as many people lost their lives.
Many sons, fathers, uncles and brothers never returned home. In 1940 Winston Churchill was a tough and confident leader who gave the people of Britain hope. Hope was Britain's biggest weapon against the enemy.
We remember the soldiers who fought to save our country.
Please buy poppies and support the Poppy appeal. Thank you!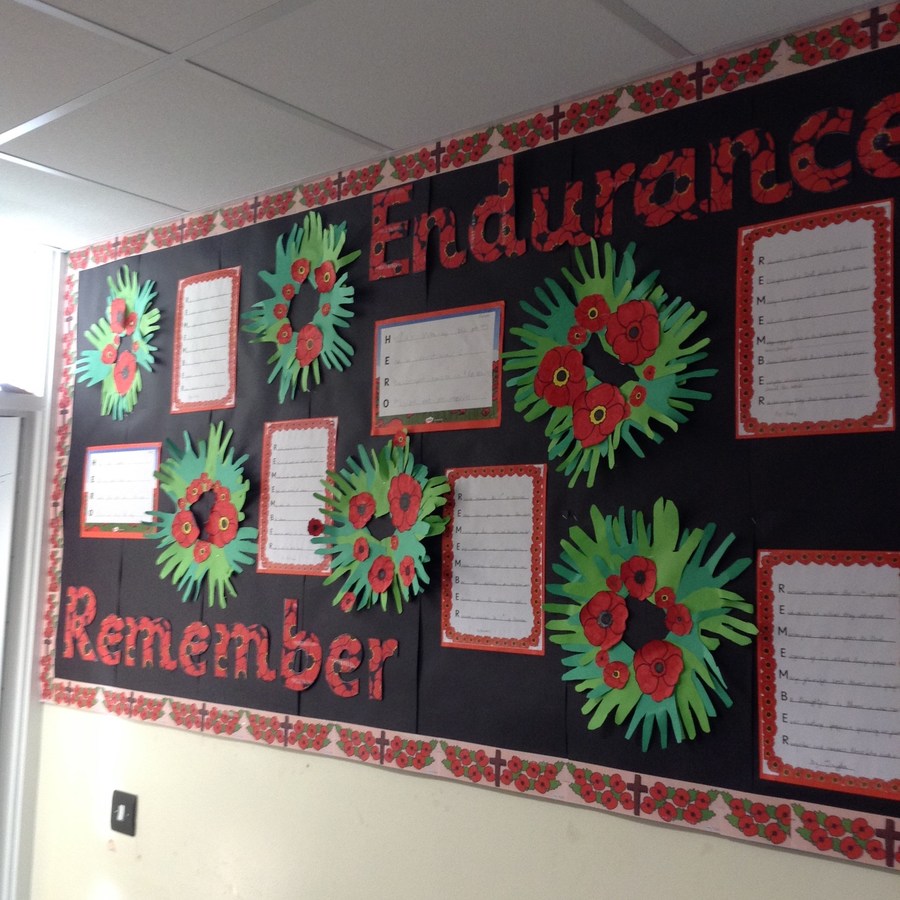 Outdoor Learning
We have been building our own miniature Anderson Shelters in outdoor learning.
Class 4 trip to Eden Camp.
Charlotte Ross - On Friday we went to Eden Camp to experience how life was in World War 2. It was a very scary experience for people at that time.
Evie Hurrell - I loved Eden Camp, it was the best school trip yet, but the huts were a bit smelly!!!
The puppet show was funny and amazing. I loved The Blitz hut, I didn't think the creepy hand was that scary. Hitler was a very nasty person.
Emily Earnshaw - I like the mess hut where we ate our lunch because it was a setting under the sea!
Esther Sewell - My favourite thing was watching the puppet show and the Blitz shed.
Thomas Newby - On Friday class 4 went to Eden Camp. I learnt lots of things. I loved the sheds especially the Blitz one! I also enjoyed the puppet show.
Ben Dyson - Eden Camp was fun! All of the huts were spectacular! The hard work gone into Eden Camp is probably as realistic as it was in World War 2.
The models, medals, planes, tanks and technology were great! Hut 5 the Blitz was creepy and it creeped me out a bit, but it was great!!
Zach Rawlinson - The best two things in Eden Camp were The Blitz and The Prison. I liked the bombs in the Blitz and the bombed houses. I liked the prison because it was dark and I got to press the alarm!