Rainforest Animals!
As part of our Rainforest topic, we've been lucky enough to receive a visit from Zoo Lab, who brought lots of special visitors to our school!
We were able to handle creatures which are normally found in the rainforest. They included Madagascan Hissing Cockroaches, Giant African Land Snails, Madagascan Millipedes, a pregnant scorpion and a Corn Snake from America.
Our teacher taught us lots of new facts about how these creatures survive in the rainforest, and which parts of the rainforest would be their natural habitat.
It was amazing to be able to see and hold the animals ourselves!
Mission : Active Kirklees at Longley Community Sports Club
We were invited to join in a day of health, sports and fitness activities at Longley Sports Club as part of the Mission : Active initiative. In the morning, we were split into different groups and met lots of new friends from other schools.
The activities were really fun and we tried new things.
Here are some of the sports we tried.
Problem solving, tennis, athletics, boccia, football, orienteering.
Wheelchair Sports
On Tuesday, we had a try at playing sport whilst in a wheelchair. Our school has had some wheelchairs loaned to help us understand how it feels to be a wheelchair user. It was a really good opportunity for us to try some of the sports you can still do if you need a wheelchair. We tried a form of basketball and sprint racing!
Year 4's Super Star Readers!
We have recently been awarded our 12th home reading certificate. This is because we have read for 10 minutes 360 times since September! We can't wait to receive our book voucher from Mrs Land.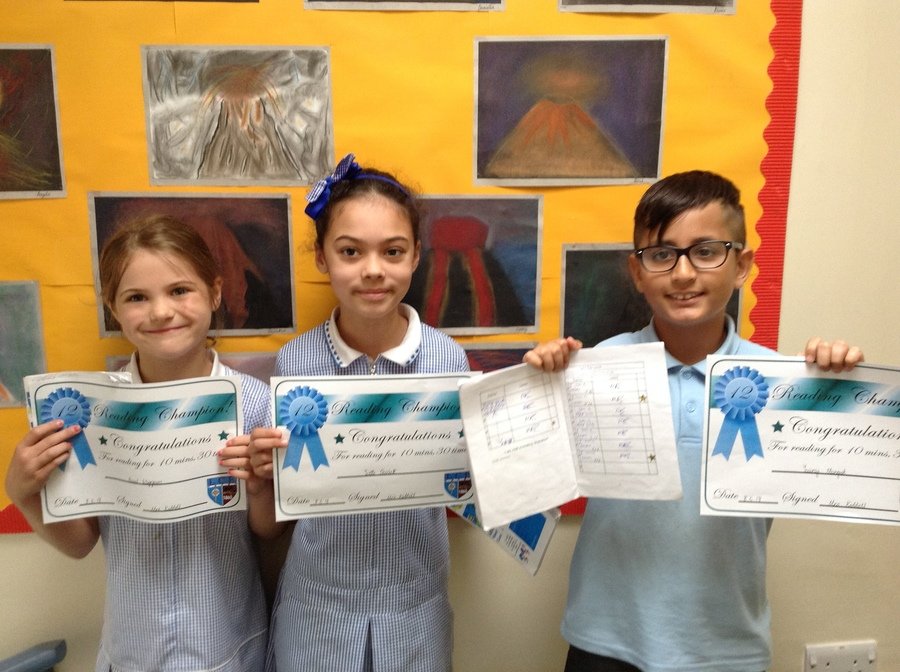 We went home and designed a creative piece of work for our new Volcano topic. We used tin foil, four pieces of paper, felt tips, tissue paper and sticks to make our night time erupting volcano scene. Our teachers were very proud of us!!
We received a lesson from a member of the Online Child Protection Team. We discovered how to keep ourselves safe when using ICT, especially when using the internet. It was really interesting and we learned lots of new facts and tips about using computers at home.
Street Dance
Here we are practising our Street Dance routines. We've been learning lots of new moves in our groups like spins, pirouettes, the helicopter and step ball change.
The Rainforest
During the Summer term, we will be learning all about rainforests. We have already started researching the rainforests through topic books and ICT and produced our own information sheets.
This week, we have created our own tribal masks inspired by the Korubo, Tupi and Panara tribes.
As part of our Easter celebrations, we have created our own vision of Calvary Hill. We painted paper plates and cut out our own hill and crosses to create a silhouette. We had lots of fun making them!
During Outdoor Learning, we have been using Design and Technology skills to create our own Viking longboat masts.
Take a look at our work in progress.
We have had a fabulous World Book Day!
Everybody dressed up as their favourite book character. We had ladybirds, magicians, cheese monsters, rats, sporting heroes and much more!!
We took part in the school's World Book Day quiz and listened to some of our favourite authors discussing how they create new stories.
Mothering Sunday
We have linked our Christian value, Reverence, to Mothering Sunday. We have made Mother's Day cards to honour our mums.
As part of our Religious Education, we have been exploring stillness. This technique helps us think deeply, use our imagination and be creative.
We explored and shared stillness and tensing techniques that can help us learn.
The Vikings!
Now we have returned to school, we have started our new topic, The Vikings! Over the Christmas holiday, we were all very busy producing Viking artefacts such as shields and swords, writing newspaper articles about the Vikings or creating our very own Viking playing cards!
Take a look at our display to see our exciting work!
Our Ukulele Assembly
During the Autumn term, we have been learning to play the ukulele.
Here we are performing one of our songs to the rest of school. We hope you enjoy our performance.
We're Spotty for Pudsey!
To help with our school's fundraising effort, we all came to school dressed in something SPOTACULAR!
We worked with our friends to create fundraising stalls to raise money for Children in Need. Our stalls were all different and included delicious buns and cakes baked at home, beauty stalls, competitions, games and much more!
Evacuation Day
Wednesday 15th November was the day we were all evacuated to the countryside. We waved goodbye to our parents before coming into our 'new' school. Our school day was very different to what we were used to.
Mrs Bray was very strict and insisted we had a hand inspection to check we were clean and tidy. We sat in table rows and had to be very, very quiet. We practised chalk and talk from the board and then had drill practice in the playground.
It was such fun to dress up and pretend to be an evacuee.
Remembrance Day
To help us understand the significance of Remembrance Day, we made our second visit to Valley View Care Home on Wednesday 8th November.
We were excited to be able to deliver our completed poppy wreath and individual poppies to the residents, which they had so carefully helped us make the previous week.
As part of the celebrations, we sang to the residents many familiar songs to them, including Keep the Home Fires Burning, It's a Long Way to Tipperary and On a Bicycle Made for Two. A wonderful afternoon was had by all and many of the residents joined in with the singing!
Visit to Valley View Care Home
On Wednesday 1st November, Class 4 visited Valley View Care Home. We made felt poppies with the residents. The children and residents had a lovely afternoon, the residents particularly enjoyed getting to know the children. Before leaving, the children sang some songs they had been learning from the World War Two era.
Year 4 Visit to Eden Camp
We visited the World War Two museum in North Yorkshire. We had lots of exciting experiences, such as walking through a blitz, seeing what a real life street would have been like during the war and experiencing a prisoner of war camp!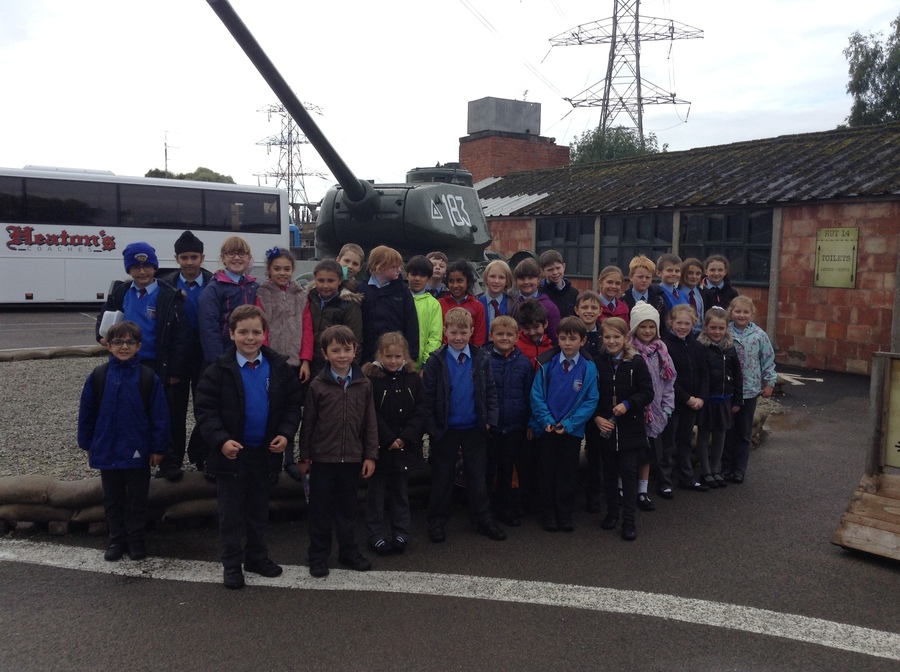 Outdoor Learning
As part of our World War 2 topic, we have being learning about the different types of air raid shelters used during the bombings. We have built our own Anderson shelter during our outdoor learning lessons.
We are Class 4 South America!!
Our class identity this year is South America. To help us learn more about who we are, we have produced various pieces of artwork that celebrate South America.
Take a look at our South American flags and wildlife!