Online safety workshop.......
On Friday a policeman came into school to tell us about online safety. It was very interesting!!
We learnt lots about being on line and which games we can play at our age.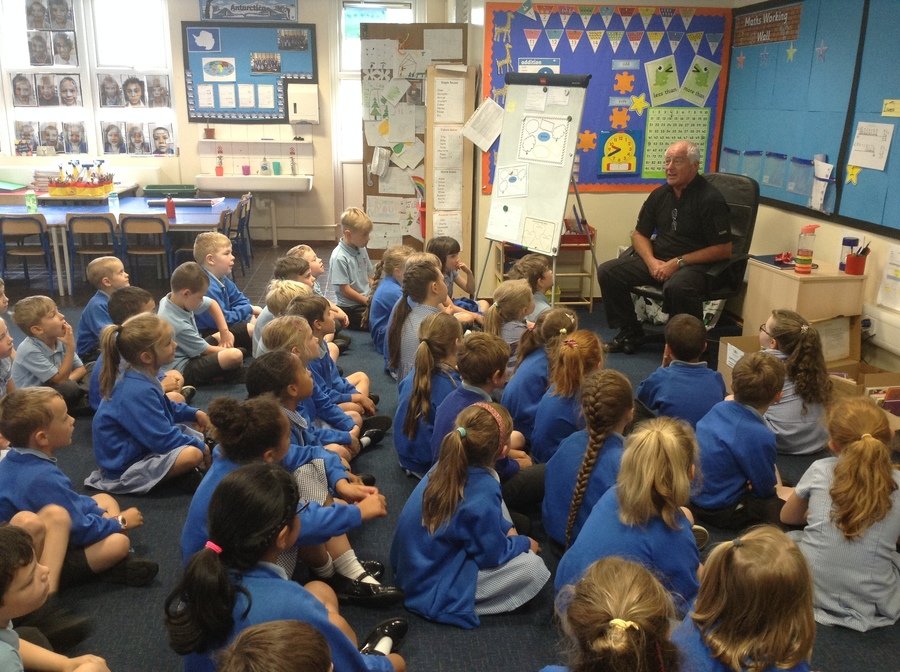 Wheelchair Basketball
Today we had the opportunity to try playing wheelchair basketball.
I found it easy to score a goal but had to wheel and throw at the same time which was tricky - Reuben.
It was lots of fun but my arms started to ache - Emily.
It was fun but it was really tricky because I found it difficult turning in the right direction - Riley.
We have been sharing our learning with Class 5 today.
We were really proud of our stories and Year 5 really enjoyed listening to them. They also helped us to improve our stories...
Superstar Readers
We are so proud of our superstar readers gaining their next reading certificates!
Well Done!!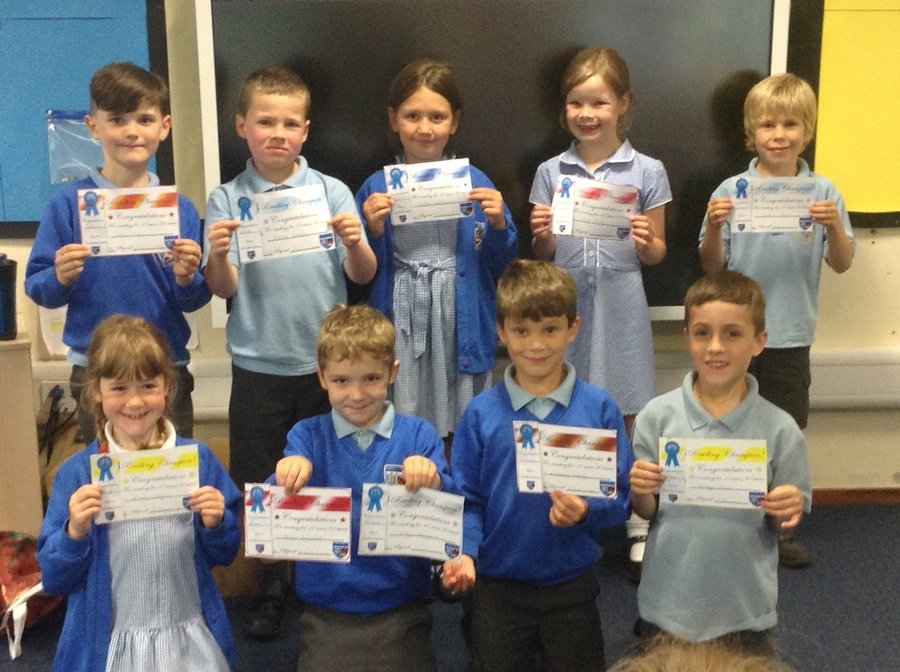 Clay Castles
We designed, built and decorated our own castles.
It was very difficult to use the clay and some of the parts of the castles dropped off and the castle became a ruin! - Scarlett
I loved making my castle - Kason
I am really proud of my castle - Tilly
Super Smoothies with Sam!
As part of the Change for life learning we have been finding out about healthy foods and drinks.
We made some fruit smoothies using fruit, milk and yoghurt. We mixed them up in a blender and tried them.....they were delicious!
The Royal Wedding
Afternoon tea party - Friday 18th May 2018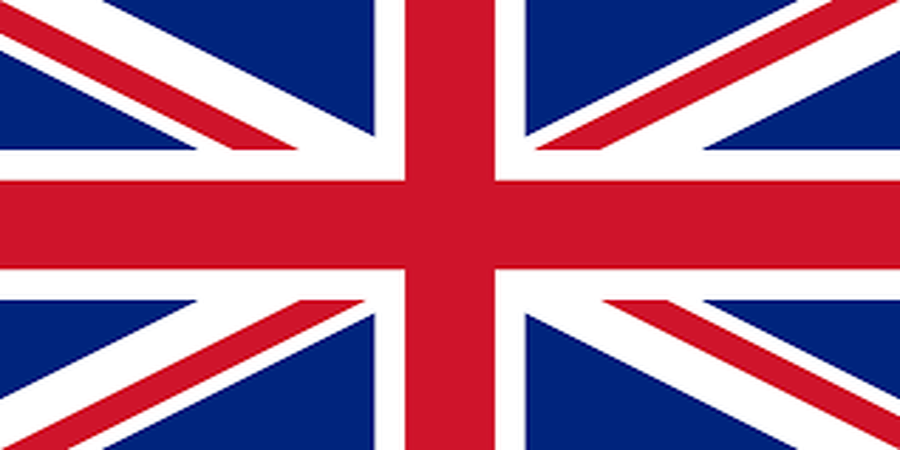 Afternoon tea with our family and friends.....
Adam - My favourite part of the day was spending time with my grandparents.
Evie - I enjoyed making all the food and then eating it!! I also loved spending time with my family.
Charlotte - I had fun with my friends.
Sofie - I enjoyed it when my parents were coming and I met them at the gates with a big smile!!
Lucie - I loved doing the guard of honour to welcome our guests. We had to bow or curtsey to them.
Dragon Descriptions
In Literacy this week we are going to be describing dragons. So today we have created a dragon of our own!
We drew our dragons on the playground in chalks and started to think about how we could describe them in the most exciting way.
Change for Life Club with Sam
We have been learning about health and nutrition and we have been really active.
This week we played a game like dodge ball using the food groups as our targets. We had lots of fun!!
The Great Lepton Egg Drop Challenge!!!!!
We have been learning about how Sir Isaac Newton discovered gravity. We wanted to do our own experiment to test the force of gravity. We discovered that we could slow down the speed of an item falling down to earth by making it bigger and flatter. This meant that the air slowed it down and gave the egg a softer landing. We also wrapped the eggs up to try to protect them.
All of the eggs eventually splatted on the playground!!!
Class 2 trip to Huddersfield Lawn Tennis Club
Reuben Revell - I really enjoyed our day at the Tennis Club. We played fun games and a tournament. I really enjoyed doing the demonstrations with Tim and I was also a coach with my own team!!
Georgina Howe - I really enjoyed it when we did the tennis tournaments and was proud when Havannah won the medal.
Callum Kelly - I loved hitting the balls over the nets in groups of 3.
Evie Kelly - I really enjoyed every single bit of the tennis trip especially the tennis tournaments.
Havannah Ryan - I enjoyed the tennis trip so much. I won a medal for being the most improved player and helping my friend Charlotte.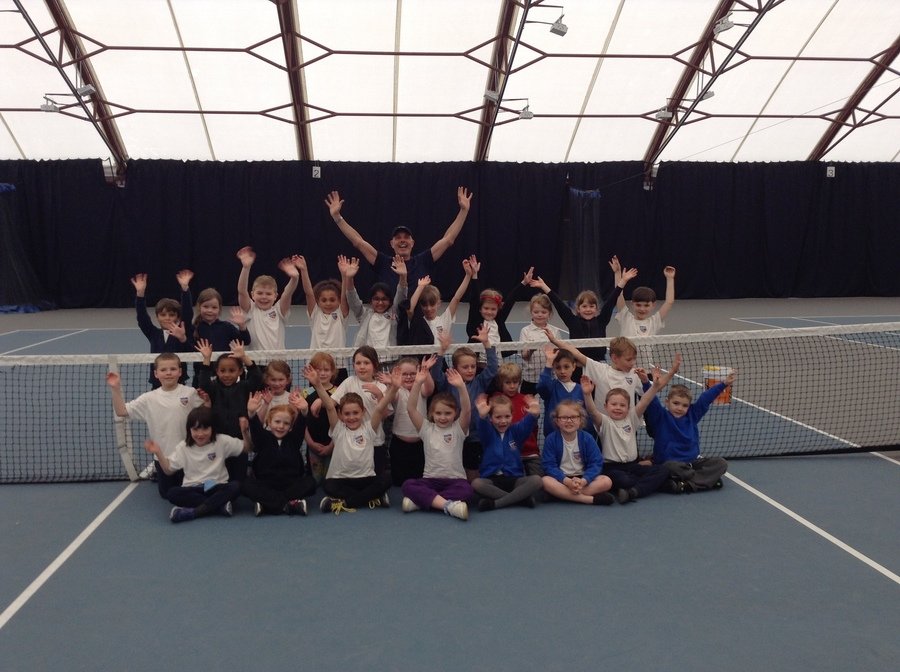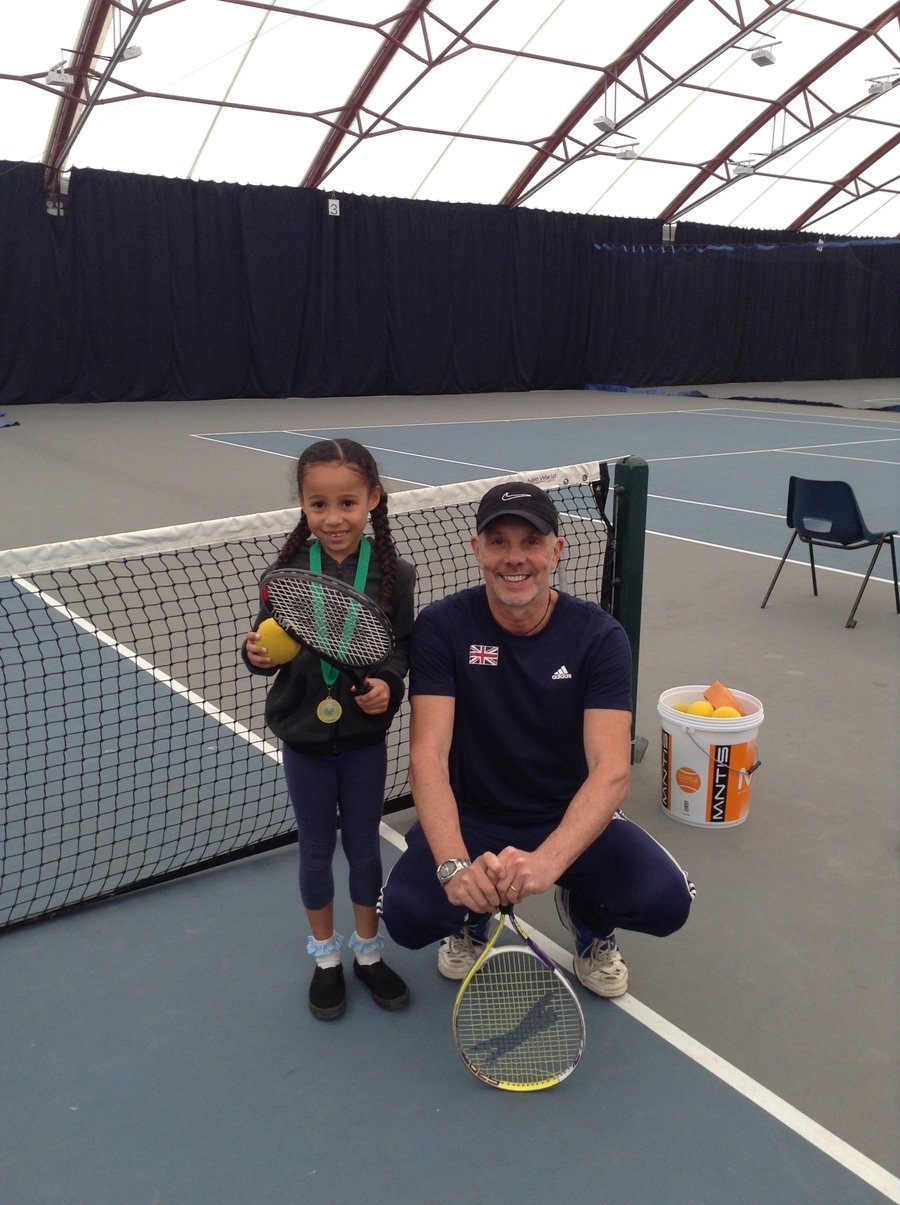 Sir Isaac Newton
The sun is shining so we have taken our Literacy learning outside today!
We have been using conjunctions to write sentences about Sir Isaac Newton in chalks. We moved around the playground and helped our friends to improve their sentences.
We are going to use these sentences in our extended writing on Friday.
Easter craft morning
On the last day of term we had an Easter craft morning. We visited different classes to have a go at different crafts linked to Easter and the Spring.
It was lovely to work with children from all across the school.
'Easter Egg and Bonnet competition'
Class 2 entries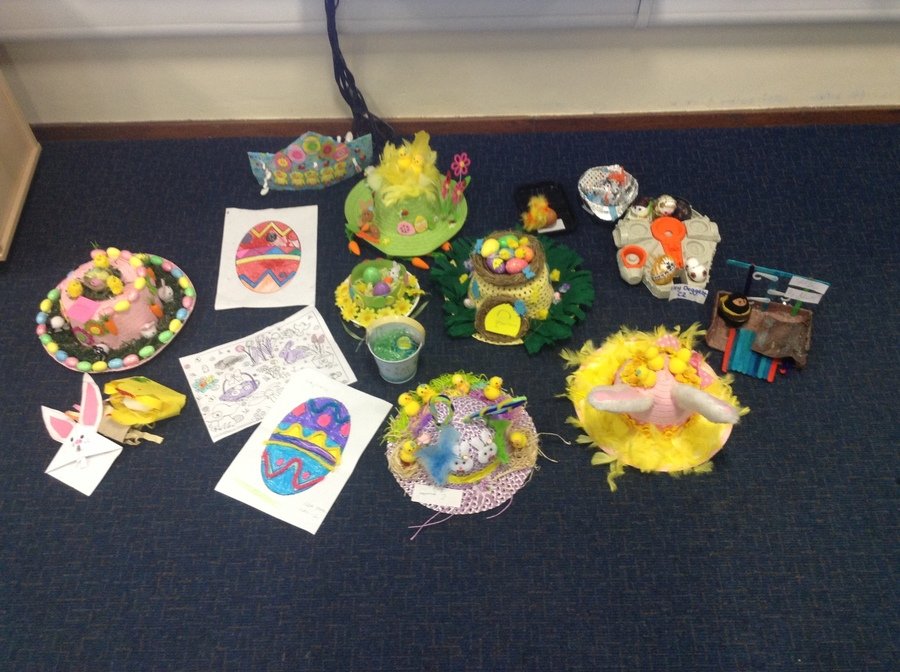 Maths - Symmetry
We have been drawing and writing on the tables again!
In Maths we have been drawing shapes and investigating lines of symmetry.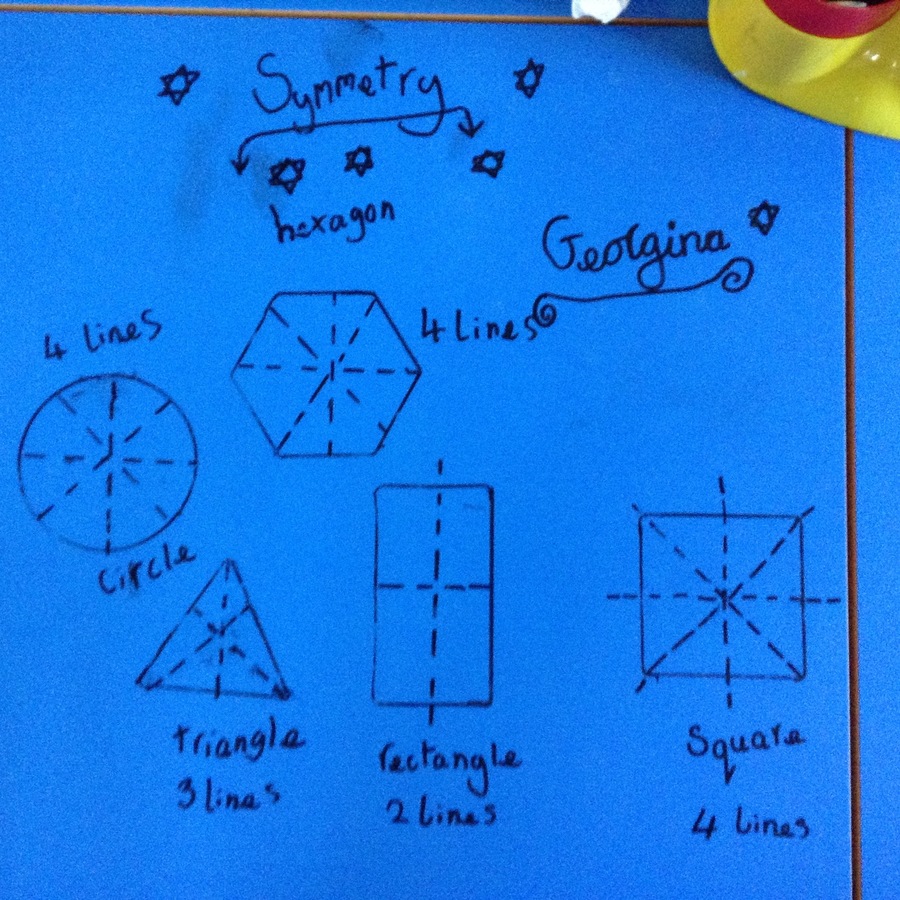 Evie Kelly - Today I really enjoyed making Mocktails for sports relief. I made one with sparkling water, lemon juice and apple juice. We had to measure the correct amounts of each drink to make it work.
Havannah Ryan - Today's Maths lesson was amazing because we made Mocktails by ourselves!!! We had to use ml to measure the amount of liquid we needed.
Charlotte Holmes - We made the drinks. They tasted nice.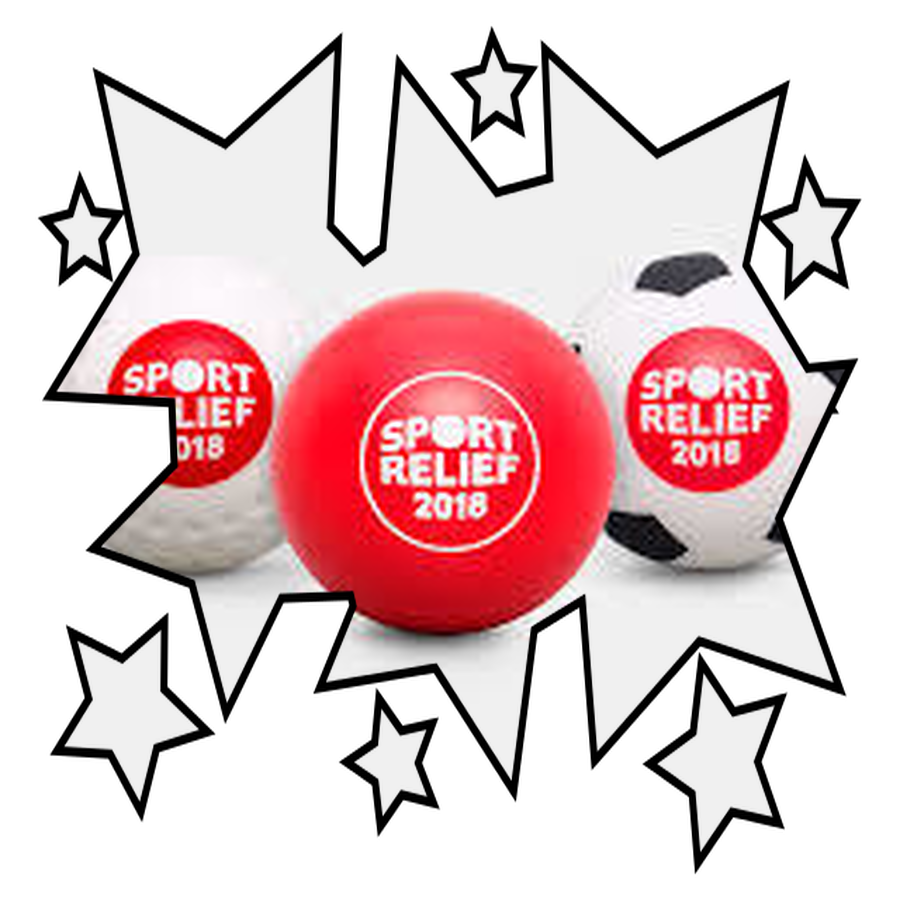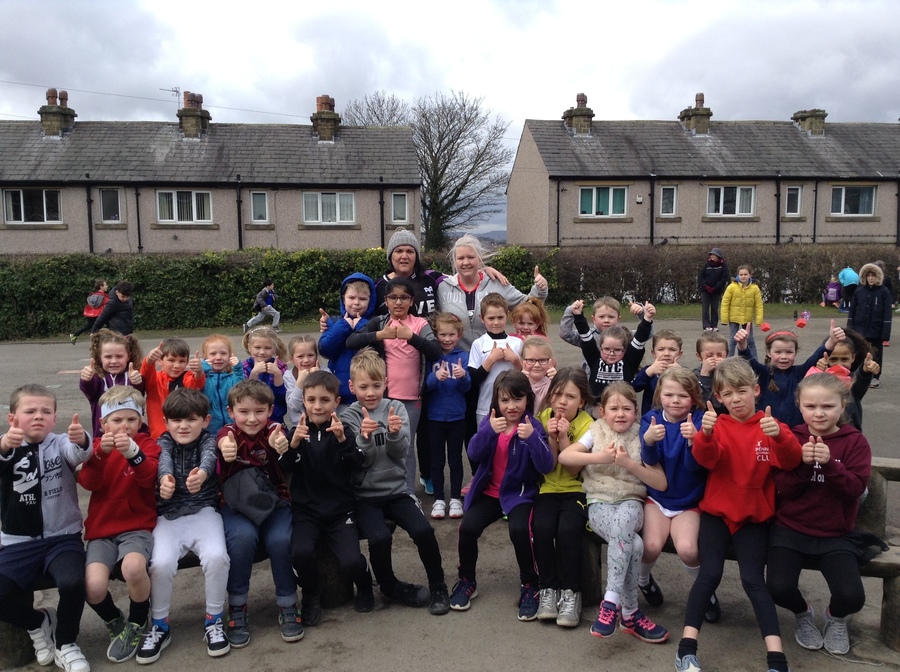 Fisher Scott - Today I enjoyed running a mile for Sport Relief. I managed to run over 2 miles!!
Daisy Kaye - To raise money for charity we ran a mile and came to school in sports clothes. We had lots of fun!
Emily Cowgill - We ran a mile today for sports relief. The Year 6 sports crew helped us by cheering for us and running with us.
Class 2's Habitat Hunt!!
We have been beady eyed detectives this week trying to look for clues as to which animals might have habitats in our school grounds. It was very cold so we didn't find very many!!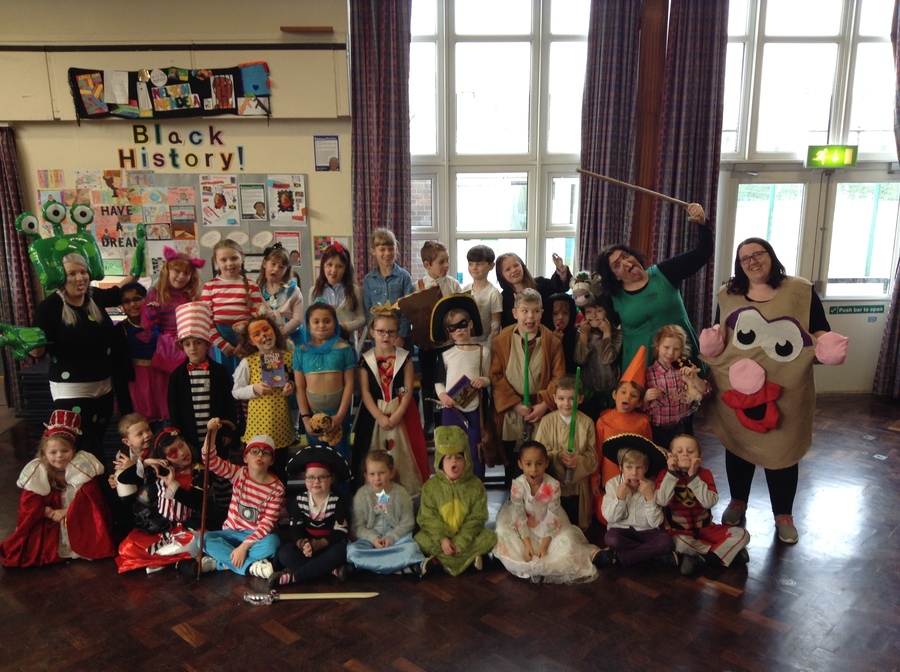 Writing on the tables!!!
Our literacy lesson was different today because we wrote on tables. We were writing sentences about the book Tuesday and we were focusing on punctuation, adjectives and exciting vocabulary! By Fisher Scott.
Today has been amazing, we were writing on tables! It was so much fun... We were moving around the classroom helping our friends to improve their sentences by adding adjectives, description and exclamatory sentences!! By Scarlett Roberts.
Sharing our learning with Year 6!
We have been sharing our learning with Year 6 this morning. We showed them our information pages all about penguins and some of us performed our poetry!
We are really proud of our work; here's what Year 6 thought.....
Theo - The Year 2s were very creative writing their poems!
Alex - The Year 2s information pieces were full of facts and took me by surprise about just how much they knew!
Abigail - Year 2 were great! I really liked their information texts but I particularly liked the poems, they were funny and generally great to watch and listen to!
Alice W - Year 2 spoke clearly and used excellent vocabulary. Super job Year 2!
Aimee - I was really impressed with the vocabulary in their poems and just how confident they were when performing them.
George - I think that the Year 2s were confident and in some of the poems they used Onomatopoeia which I really liked.
Fractions
We have been using Pizza to help us to understand fractions. We have been sharing into halves and quarters!
It made us all feel very hungry!
We have used our thoughts and feelings to create Graffiti Art for our reflection area.
We came up with some questions to think about whilst children are in that area.
Merry Christmas and a very Happy New Year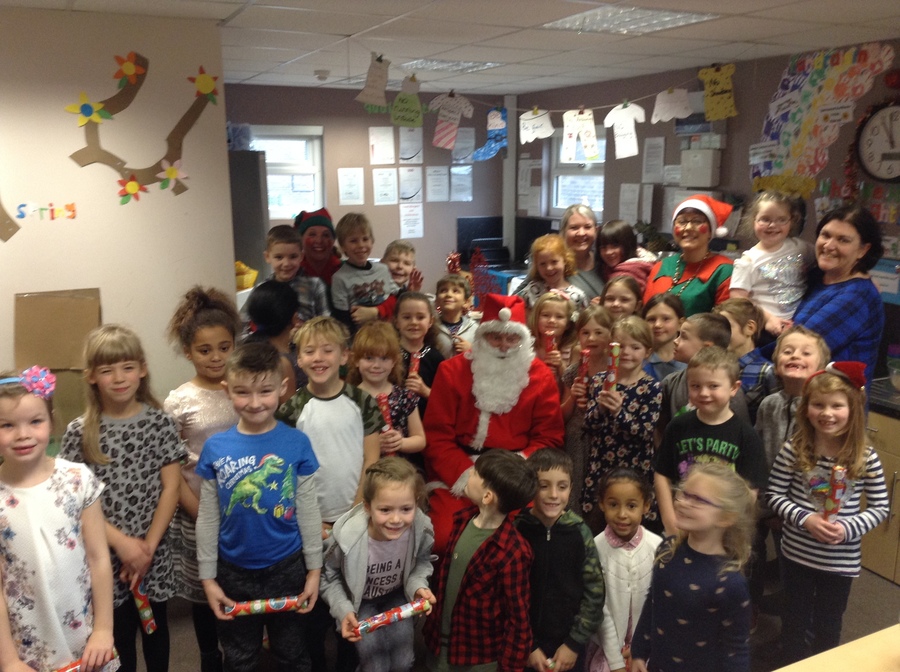 Santa came to visit Class 2
Making crispy Christmas puddings....
Christmas craft morning....
We have loved learning to play the Recorder this term.
This is us performing our favourite piece 'Walking Talking Robot'.
Making stockings to hang on our fireplace!
Outdoor Learning
We have loved Outdoor Learning this half term......although it has been very, very cold!!!
It was our last session last week and we had a very special treat!
We toasted our own marshmallows on the fire and made Smores......Yum!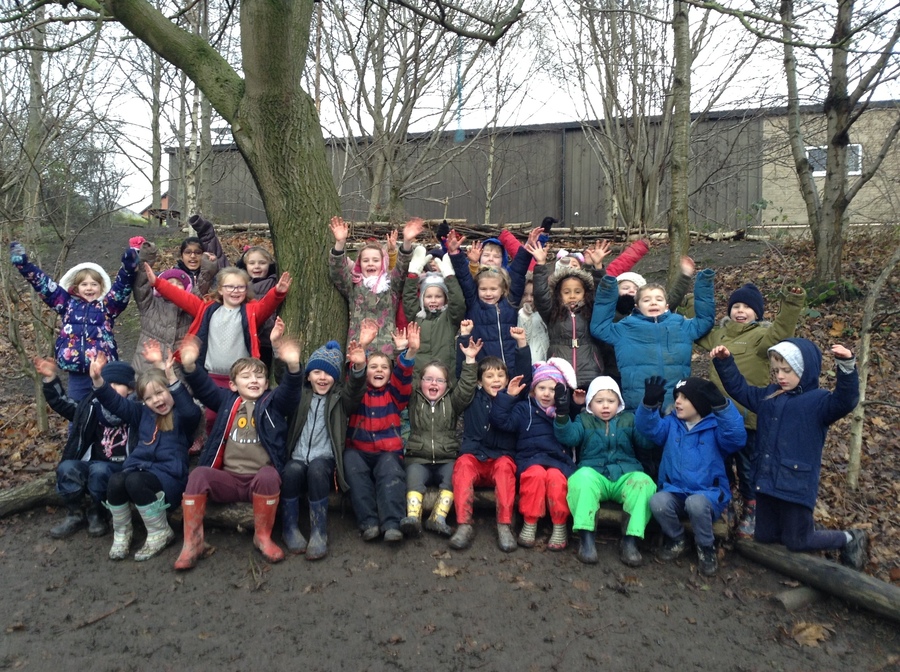 Boxercise
In our PE lessons we have been learning how to Box.
We have learnt how to jab, cross and uppercut!!
We have lost of fun and really enjoy Boxercise.
For Children in Need this year we have been learning about how we can support people less fortunate than ourselves.
We tried to play the drums with a Pudsey mask on so we could understand what it would be like for a blind person to play a musical instrument.
After this we tucked one arm in our jumpers and we tried to tie our shoe laces with one arm. Callum and Charlie worked as a team to achieve this goal.
Finally we played a game called 'Boccia' its like bowls, again we had to do this with one hand and found it very difficult.
This helped us to understand how life can be challenging when a person has a disability.
In the afternoon we visited the Children in Need market in the hall and had lots of fun!!
George - Spotacular day is when we donate money to Children in Need.
Reuben R - We played African drums with Pudsey Bear masks on so we could not see. We then tried bowling with only one arm. We raised lots of money today!
Riley - We show compassion at Children in Need day by giving money to help others.
Oona - We played the drums with blindfolds on, it was fun!!
Leia - Be kind, be generous, respect for charities and raise money for Children in Need.
Ruben P - I had a fantastic time!!
Outdoor learning
We are loving Outdoor learning as we are learning about natural materials
We have made coat zippers out of wool, bricks out of mud and clay and we are weaving willow circles.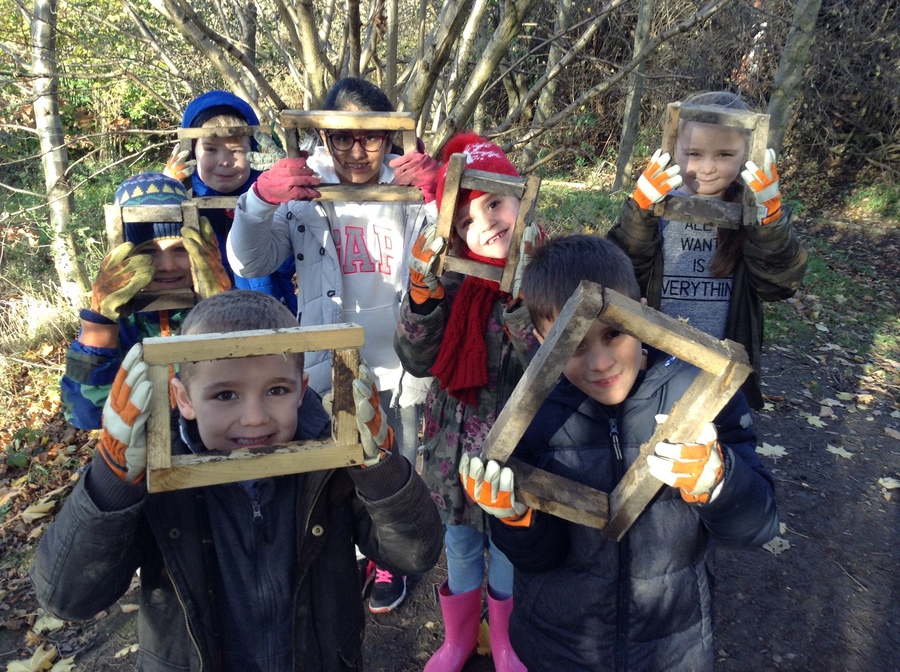 Literacy
This week we have been learning about the use of conjunctions to join two sentences together.
We wrote sentences that made sense on their own then with a partner we tried to join the sentences together using the conjunctions we had learnt.
We had lots of fun swapping sentence with our friends.
This week in our Maths learning we have been looking at division.
To help us to understand this, we have been dividing the class up into groups to help us with our sharing.
Recorder lessons
This year we are learning to play the recorder in our music lessons with Mrs Greenwell.
Incarnation Learning walk
As a class we read the story of the birth of Jesus from the Bible. We began with the Angel Gabriel appearing to Mary up and finished up with the Shepherds visiting Jesus in his Manger. At each part of the story the children moved around the school and the playground to follow the journey Mary and Joseph went on. We discussed at each stage what peoples thoughts and feelings might have been and how things are different for us now.
Kason "Mary was surprised about the Angel"
Sofie ""It was a long way to get to Bethlehem"
Callum "I think on they journey they were exhausted, and when the Angel came they would have been surprised but when Jesus was born everyone was happy."
Diwali Lamps
After learning about the story of Rama and Sita we decided to create some colourful Diwali lamps to join in with the celebration of light. This helped us to remember that light helps us find our way, like in the story when Rama and Sita returned to the kingdom.
Charlie " I learnt that Rama kept his promise"
Seth " It was very fun and its very important to remember Rama came back to the kingdom"
Taylor " I loved creating my lamp with bright colours and glitter"
Abbie Dewhurst - Look North Weather
On Tuesday 17th October we had a very special visitor in Class 2. Abbie Dewhurst came to visit and watch us presenting our own weather forecasts.
Abbie was so impressed by our weather forecasts and she had this to say:
I absolutely love the opportunity to get out of the studio and meet people around the region and, being a child at heart, visiting a primary school is always my favourite. The children at Lepton School were by far some of the loveliest I have ever had the pleasure to meet. They were polite, well behaved, enthusiastic and very welcoming, not to mention, amazing at presenting the weather! Thank you so much to the staff and children for making my visit so much fun, you're a credit to Yorkshire!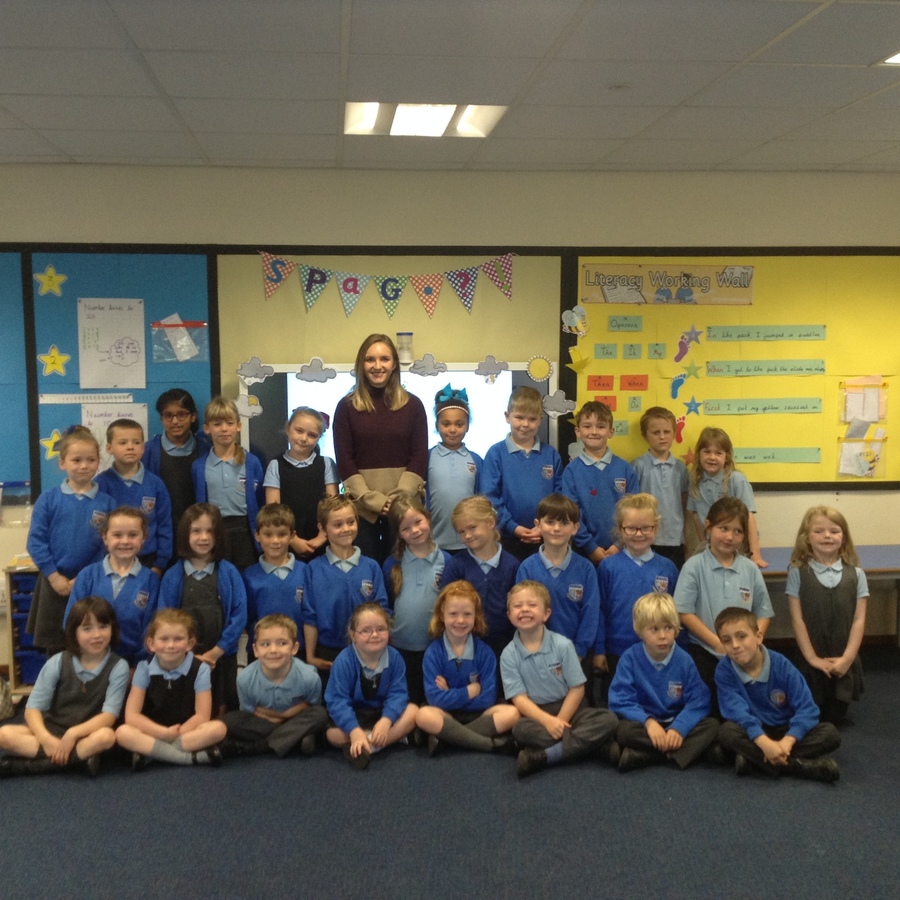 Our Harvest Festival Assembly
Prayers to God
Class 2 have looked at Christianity and our christian values which are Compassion and Justice.
We then looked at who we are thankful to and what for and from this we created some of our own prayers to God.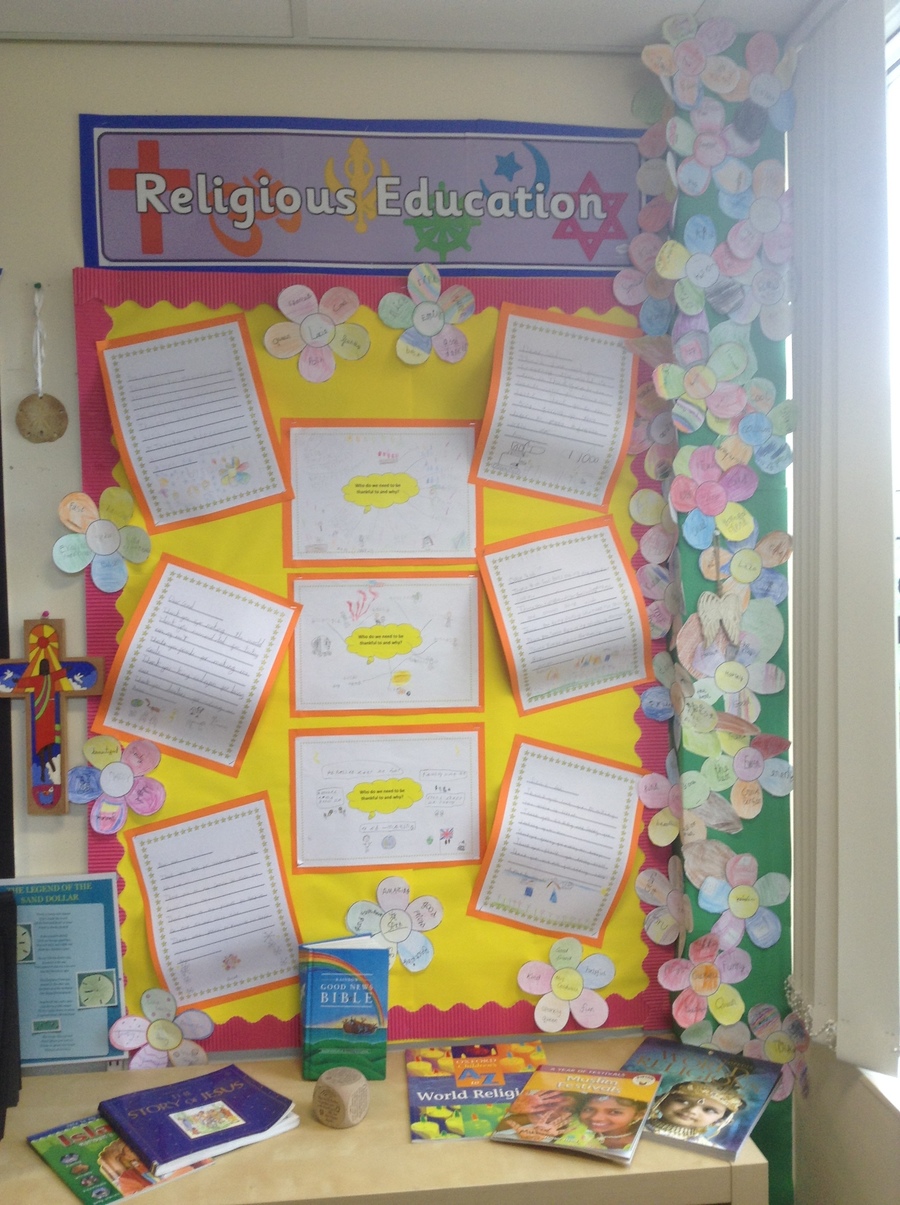 Our finished Stained Glass Window, which looks amazing on a bright day with the sun streaming in.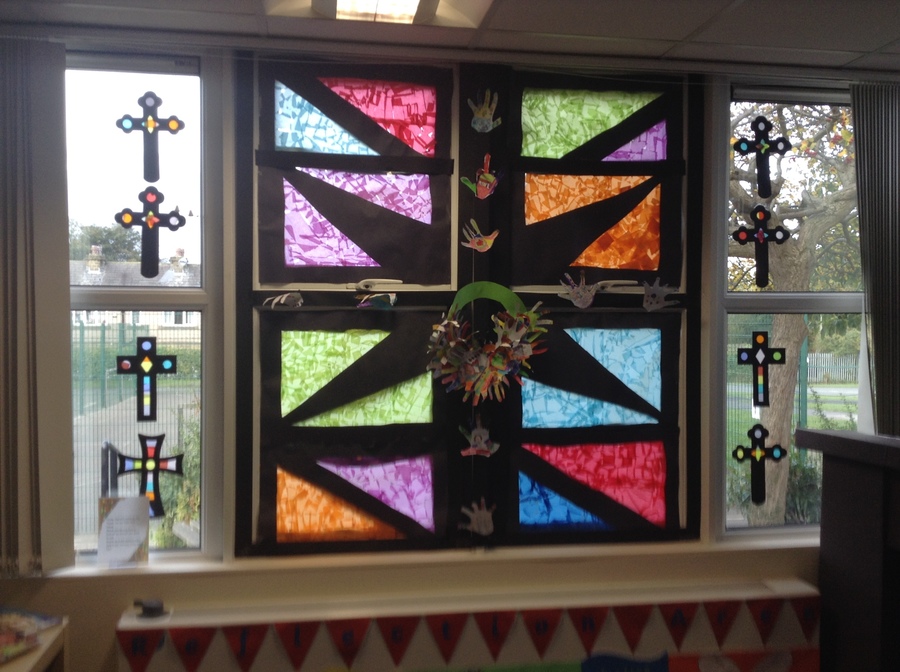 Compassion hands
We designed our individual hands and then placed them together to create a circle of compassion and discussed how if we all work together we can help others.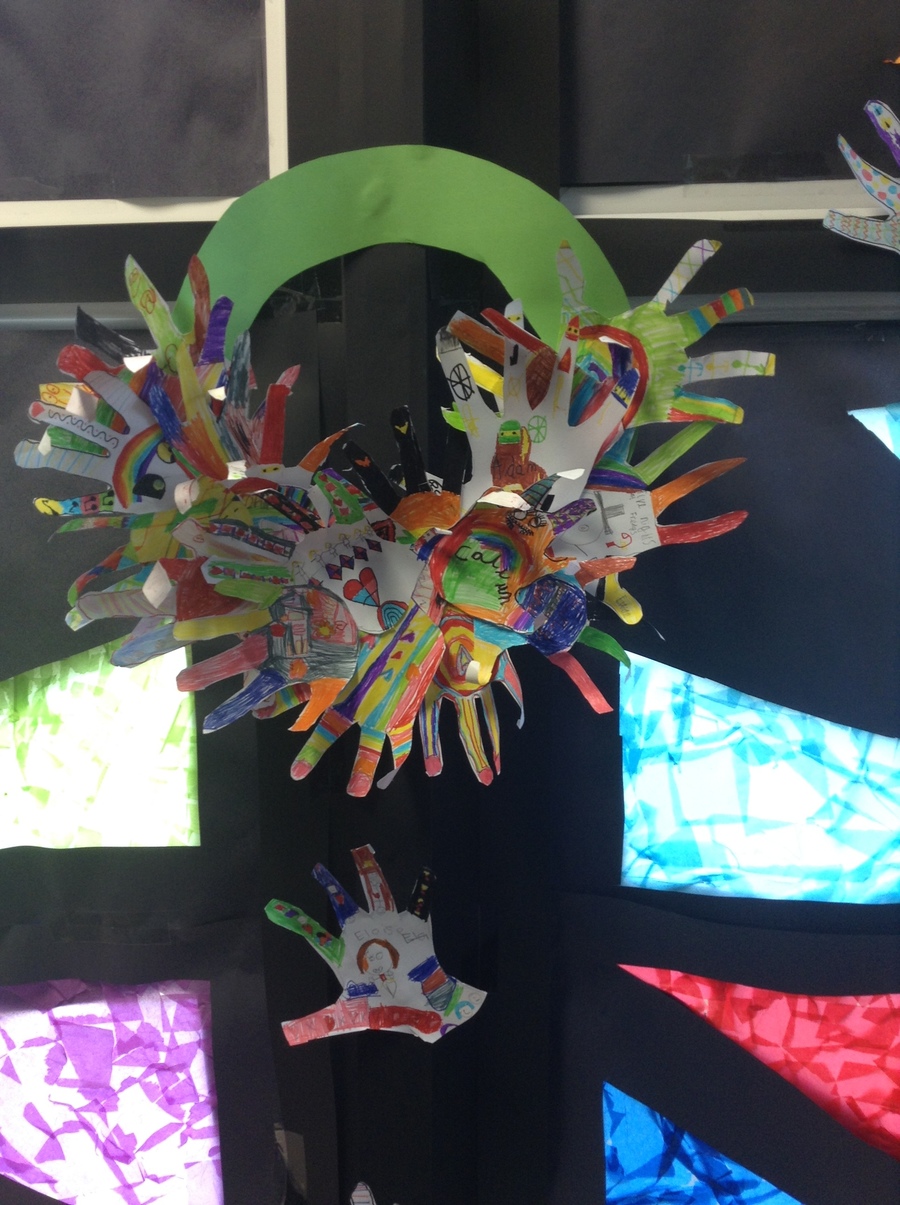 Black History Month
As a class, we have looked at the famous Boxer Muhammed Ali and learnt about his life and achievements. We then created some pop art pictures using an image of Muhammed Ali.
The Four Seasons
This week we have been learning about the four seasons. Scarlett came up with the idea of splitting the room into 4 zones with an activity in each zone.
Miss Jillott and Mrs Coldwell made it happen and we had lots of fun!!
George - I enjoyed playing with playdough to make models from the summer scenes like Ice creams and a picnic.
Kaitlin - I learnt that a cloud holds the rain and when it is full it lets the rain out.
Emily - On Monday afternoon we were learning about the seasons. My favourite season was spring, we made rain in a cup and it was fun!
Charlie - The autumn was great because we coloured over a leaf to make a beautiful pattern.
Leia - We split the classroom into the four seasons and my favourite one was spring because we got to make a cloud.
Fisher - My favourite season was the winter because I loved writing about it.
Scarlett - When we did the autumn leaf printing it was brilliant. I loved the seasons afternoon.
Stained Glass Windows
This week we have been busy making coloured sheets for our stained glass windows.
We had lots of fun making them and we are looking forward to making patterns and designs with them on our classroom windows.
Continents sharing day
Class 2 enjoyed travelling around the world on Friday visiting the continents. We had our passports ready for our journey and we were ready for take off...........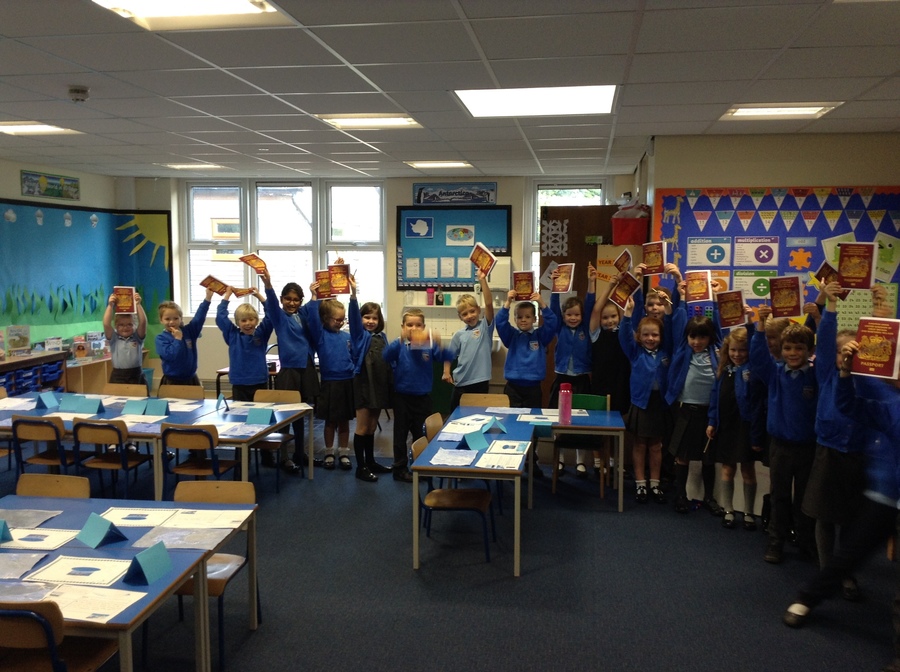 We loved visiting Australasia, Asia, South America, Africa and North America!!
Welcome to Class 2
Welcome everyone to Class 2, what an amazing year it is going to be. We are going to have so much fun and be the best Class 2 ever.